HISTORY
Circa 80′s. Mike Stewart found solid sponsorship support from O'Neill Wetsuits. It was at a time when most top rated bodyboarders were still struggling to find decent backing. This pic was taken by Hank.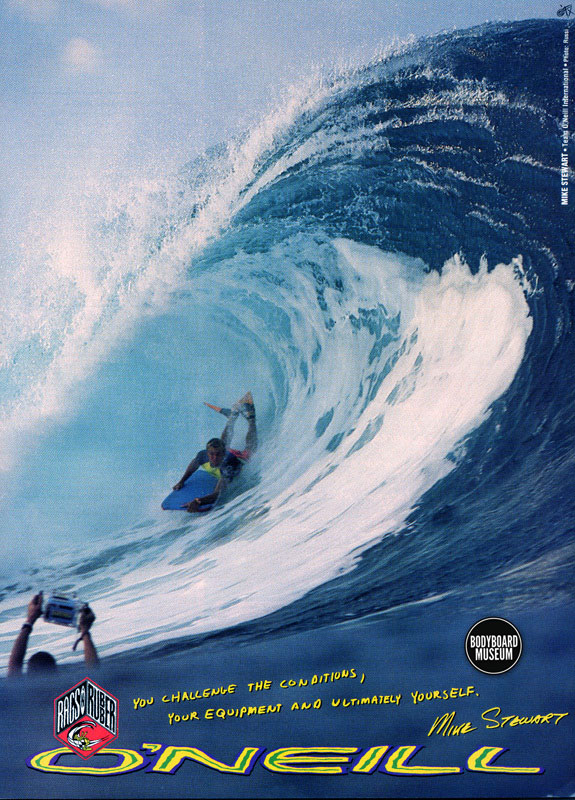 Not only did Tom Boyle capture the first still images of the sport he also produced the first series of core bodyboard videos under the title Bodyboard Video Magazine featuring the likes of  Mike Stewart, Ben Severson, Pat Caldwell, Keith Sasaki and Jack Lindholm. Mutant Slabs and Monster Barrels was one of Toms best films and  it featured the lovely Gina Bielmann and Dog Boy aka Chris Won on the cover.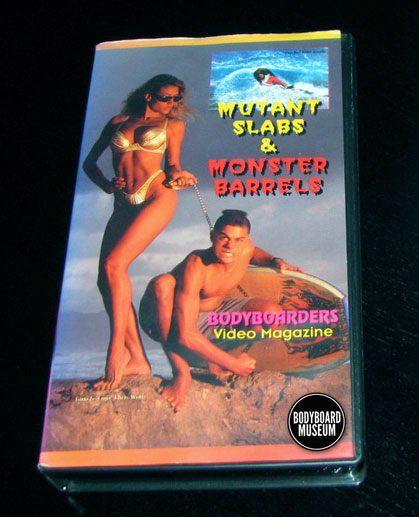 The 1991 Mike Stewart Turbo Pro Comp II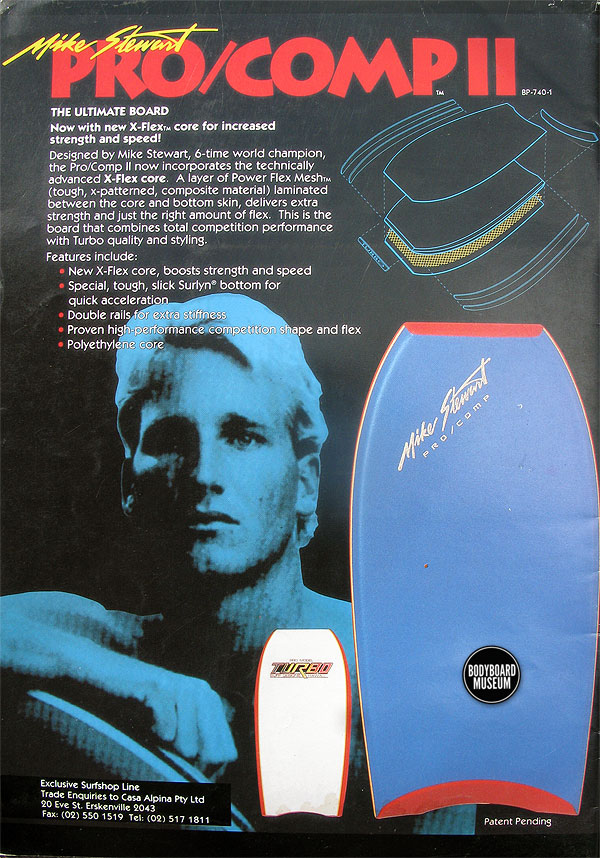 Hauoli snags a perfect Banzai barrel and scores the cover of Vol 15 Riptide 1992 photo by Brian Bielmann.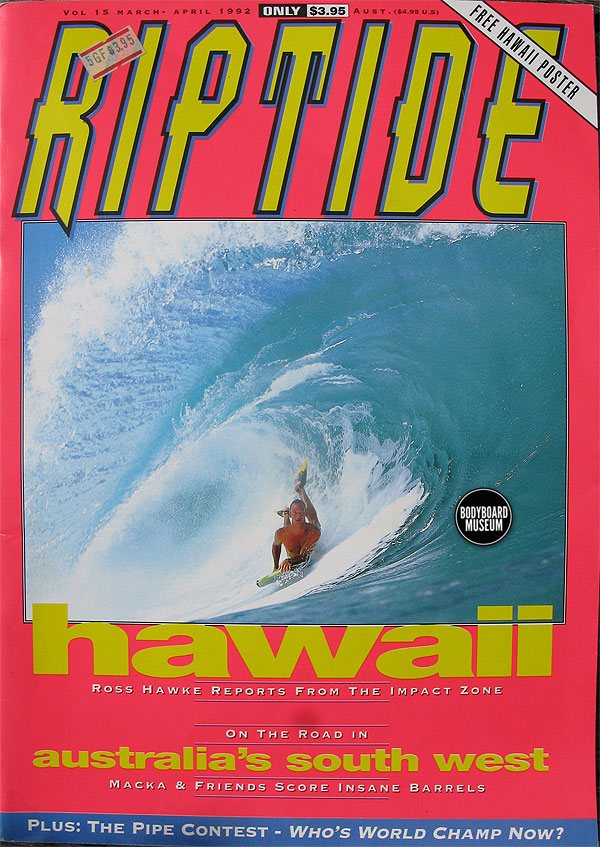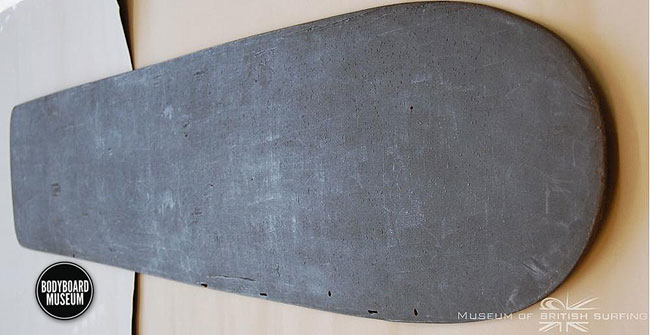 The Ancient Paipo board was donated along with other items of Oceanian material by Alfred Fowler in 1893, it is inscribed "surf swimming board given to the donor (Fowler) by the King of Hawaii" – this was King David Kalakaua who made the gift two years earlier in 1891.
It is a 5′ 11″ long 'Paipo' board, tapering from 13″ behind its rounded nose to 11″ towards it tail, so it is believed it would have been used for prone surfing or by children in the waves closer to shore.
It is described as; "a long black wooden board with a rounded leading edge, tapering slightly along length to a straight-edged end. Nearly consistent depth across board. Regular, rectangular holes cut in along the two long sides, ranging from 0.5 to 1cm from the edge. One hole rounded, as if to fit a screw."The wood is possibly koa stained with kukui nut oil, and was originally part of the Christy Collection. The shape is actually quite complex, with a concave deck and convex bottom – not just a flat plank.
One of Moreys first and most popular logos of the late 70′s.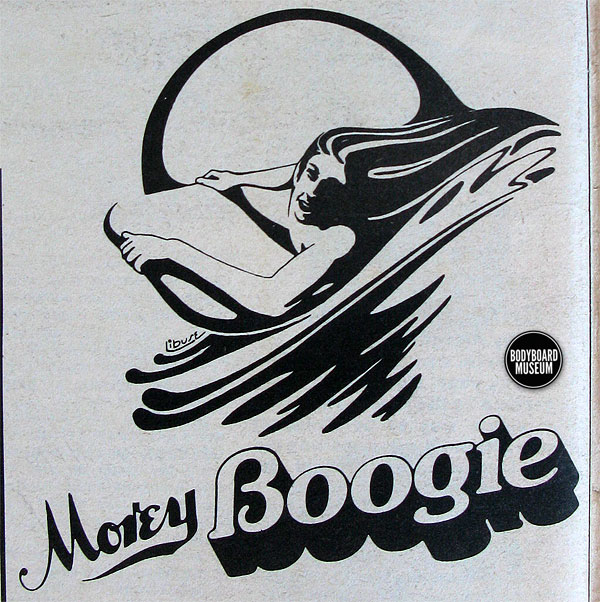 By 1984 the bodyboard boom was taking off all around the world. In New Zealand this Natural Flight Bodyboard advertisement appeared showing the first signs of a bodyboard industry beginning to get amped in the land of the long white cloud.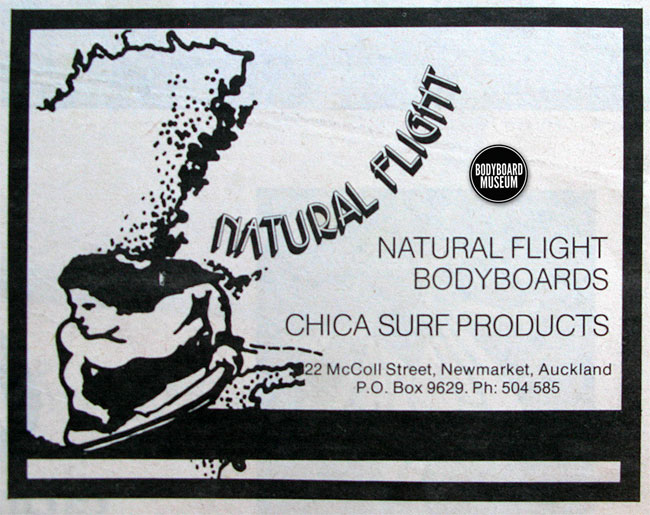 Dave Ballard was Australia's leading Dropknee force throughout the 90′s. The kid from Cronulla who was first inspired by Keith Sasaki was to become one of the most exposed bodyboarders during his reign at the top. Riding for Billabong and Manta, Bal was a sponsors dream and throughout that decade scored more covers on Riptide than any other bodyboarder. Early 90′s photo Chris Stroh.