HISTORY
Posted: November 27, 2010 at 12:46 pm
When this shot of Paul Roach appeared in Bodyboarding Magazine it changed the face of Dropknee riding. It was at the time and still is today one of the most inspiring and hardcore shots ever taken of a bodyboarder. It basically said to all the other youth codes like surfing, any thing you can do I can do better.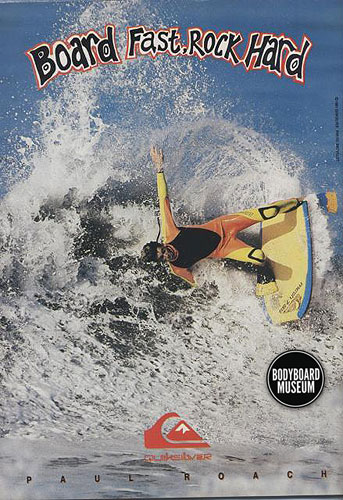 After leaving Morey Boogie, Ben Severson hooked up with Bobby Szabad and designed his Ben signature board for BZ,  it created quite a buzz. Sevo was using his experience as one of the worlds top bodyboarders and transforming it into a high performance wave riding craft. It soon caught on and quickly became one of the most sought after board models around the world. Photo ,a pair of Ben model BZ boards from '88.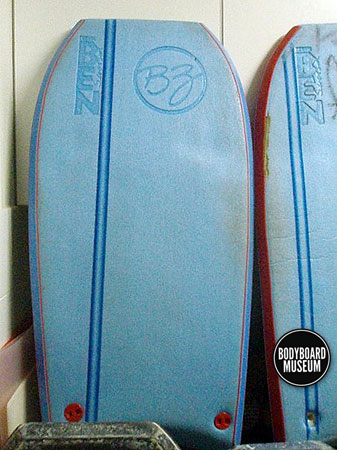 For the bulk of 90′s three Drop Knee riders stood out from the rest. Paul Roach from the US was like Kelly Slater with flashy moves and lightning speed turns. Hawaiian born Aka Lyman was calculated and smooth with a heavy backside who was classy like an Andy Irons. From Australia was Dave Ballard who was a Occy clone with raging bull style turns. Bal's DK riding was pure power and unpredictability. As a grom he showed early potential on his surfboard but made the switch to DK and became the sports poster boy appearing on front covers world wide and douple page spreads for his sponsors Manta and Billabong. During his peak  Bal was probably the second most publicised bodyboarder in the world, second only to Stewart. Pic below standard Ballard water slaughter on his Hydro signature board, this pic is typical of Ballards powerful moves and blistering turns. Photo Chris Stroh early 90′s.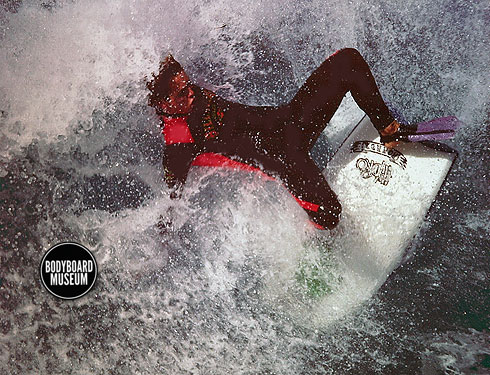 Around 1989 Mike Stewart came to Australia to promote his Turbo signature board on the Goldy and Sunny Coast. Kids turned up in the hundreds treating Mike like a Surf God. The crowds were chock a block full of stoked kids. The following summer Mike's model was the best seller of the high end market. Preaching to the kids, Stewbag  at the Brothers Neilsen store pic Chris Stroh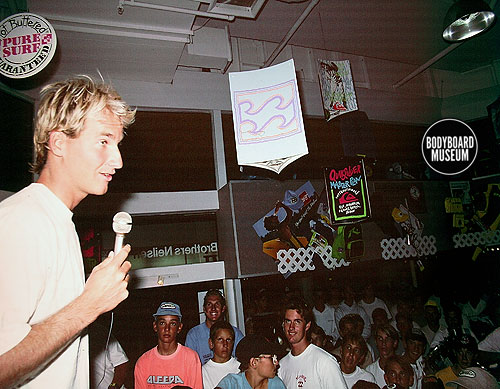 In the early 80′s France Hazar and Andrea Ferreira from Brazil were two of the first girl bodyboarders to charge large Pipe. They had to battle for waves against the guys but their gutsy performances soon earnt them a place in the lineup. Coming from Brazil's smaller waves they were forced to  adapt to the more powerful Northshore conditions. France  inspired other Brazil girls like Stephanie Petterson, Mariana and Isabella Noueira, Glenda Kozlowski,Daniela Freitas, Leila Ali , Carla Costa and Neymara Carvelho to name just a few to follow in her path and dominate Girls bodyboarding in the coming years. Below France charging in Hawaii.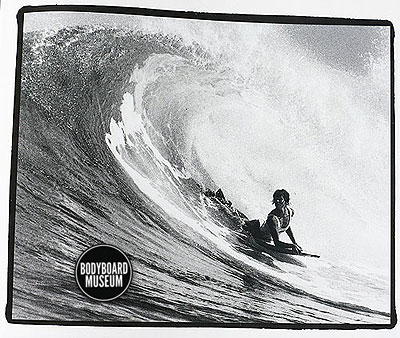 Port MacQuarie on the mid north coast of NSW in Australia is a bodyboarding hot spot. The area is renown for producing impressive bodyboard talent including two world champions in Eppo and Damian King. Then you have the rest of the crew like Mason Rose, Todd DeGraaf, Banno, The Murray's and the list goes on. Above Eppo , Ashly and Adam Murray at the first Port Mac Team Challenge back in the day when the more sponsor stickers you had on your board the more you ripped. Pic Chris Stroh 1990.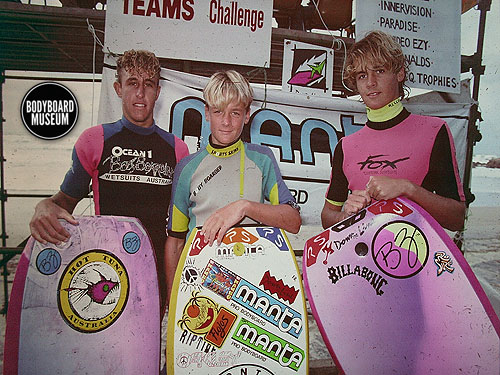 The eastern side of Waikiki Beach is separated by the protruding cement pier known as "The Wall" this is where some of the first bodyboarders like Kainoa, Dean Marzol, Keith Sasaki, Kavan Okimura and Parker Tom learnt there competitiveness and tricks by surfing right up to the pier, and sometimes making it clear over the wall. The Wall is a man made structure to help protect sand erosion and the beach here is officially called Kuhio Beach.The Wall was where small wave high performance bodyboarding first evolved. Pic courtesy Surfer Magazine.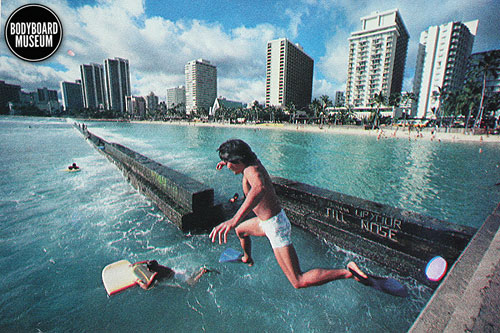 Short clip of Mike Stewart towing in Teahupoo in Tahiti 
This Morey Boogie advertisement of Newport Wedge appeared in Surfer Magazine in 1980.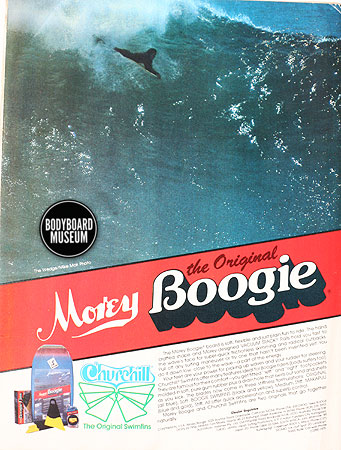 1986, January 12th : $12,500 Morey Boogie International Professional Championships – Banzai
 Ben Severson  aged 21 edged out favourite Mike Stewart to win the World Title and $4000.00 for first place. 35 riders from 6 countries competed in 4 to 6ft storm surf. International riders included Brazils Claudio Marques who finished 10th  while Aussie Evan Penglis placed 11th. Hawaiians again dominated the finals. Sevos strategy was to out paddle Stewart for every ride he could as conditions were less than perfect with onshore and cloudy stormy Pipe. Around 3000 spectators watched from the beach.Pic below the finalists.From left to right Jack Lindholm,Stewart, Sasaki, JP, Pat Caldwell and Sevo.
1. Ben Severson        Hawaii                  $4,000
2. Mike Stewart        Hawaii                   $2,500
3. Pat Caldwell        Hawaii                   $1,700
4. Keith Sasaki        Hawaii                    $1,100
5. JP Patterson        Hawaii                     $800
6. Jack Lindholm        Hawaii                  $600
7. Daniel Kaimi        Hawaii                    $500
8. Ron McAdams                                  $400