HISTORY
Posted: June 7, 2012 at 11:43 am
Heres  the cream of Aussie women bodyboarding competing in Australia around the late 90′s. At the time womens bodyboarding was taking off and improving in leaps and bounds. Included  below is Vicki, Kira, Francine, Emma , Lauren , Lily and the rest of the ladies at a comp at Wollongong. Photo Stroh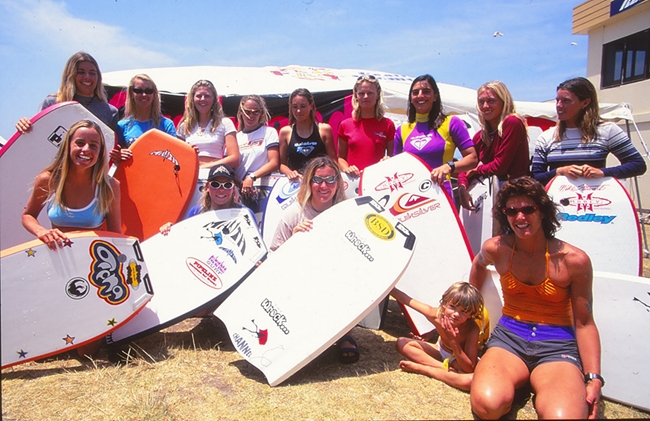 Fordy along with Nugget was the driving force in getting the Shark Island Challenge to become a reality. Mark was a longtime Island local and was well respected in the lineup for his quiet nature,casual style and go for it tube charging. Here Fordy almost cops Tim Jones camera in the noggin as he sails by photo CSP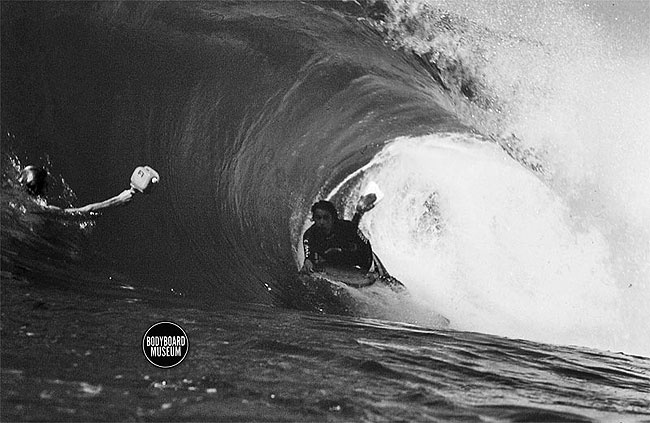 Heres Eppo, Adam and Ash Murray returning from a Nth Wall session in Eppos beetle on the ferry. The years 1990 photo Chris Stroh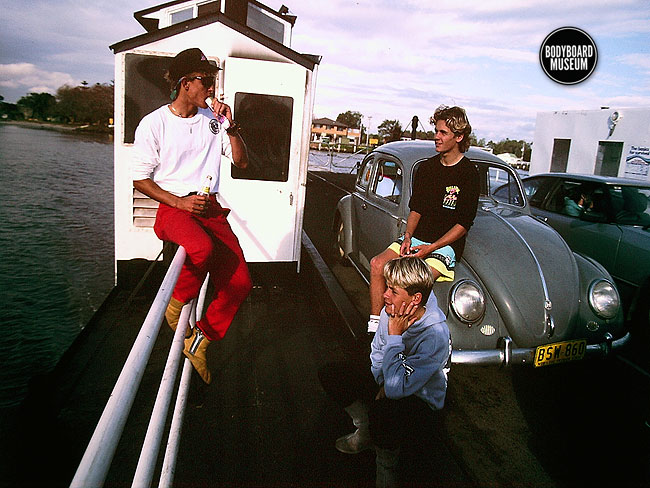 The first Shark Island Challenge held in June 97 was a groundbreaking event in Australian bodyboarding. Shark Island has long been regarded as the epicentre of the sport in Oz. The event organised by locals Mark Fordham and Nathan Purcell  brought together the best riders in one of the most high performance and  feared waves in the country. In the past most bodyboard comps were held in substandard  beach break conditions , the SIC was a breath of fresh air and well received by the top  riders. The event was won by Matt Percy just defeating Steve Mackenzie in 1 .5 metre clean offshore waves.
Below Some of the action taken from the judges boat in the channel..from left to right…1. Wazza 2.Unkown 3 & 4 Dave Ballard 5.Toby, 6. Andrew Lester.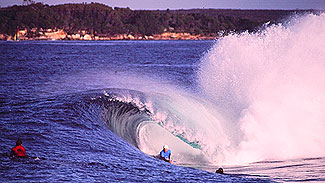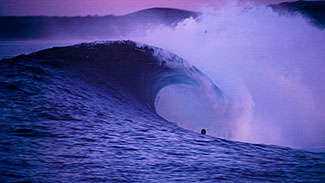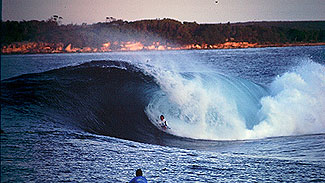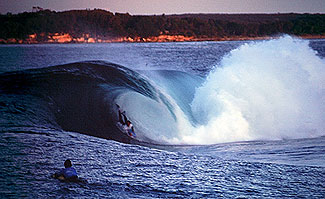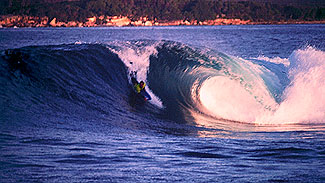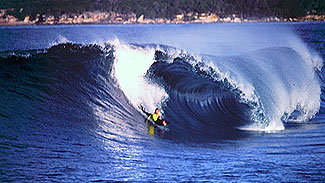 When this pic was taken in January '93 on the Northshore of Hawaii Guilherme Tamega from Brazil was already challenging Mike Stewart for the King of Pipe title. In 12 months time he made it official when Tamega won his first of several Pipe Titles and went on to dominate the sport for more than a decade. Photo Stroh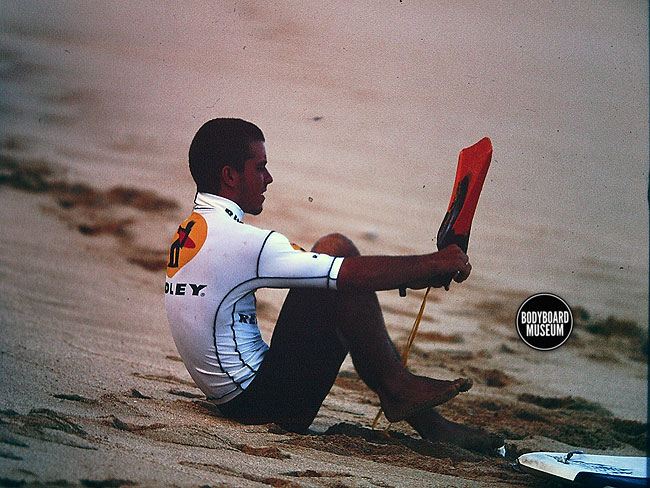 Winny grew up surfing in the Curl Curl and the Dee Why beach area which renown for being  a hardcore standup surfers domain. I remember early on in his career he had some good competitive results and a few people were quick with the negative write offs. To his credit , Winny would win over  the haters with his consistency and no holds barred approach to become one of the most popular riders in the sport. He never plays it safe in a heat and will push it all the way. The World title has  eluded him so far but its only a matter of time. This shot, Hawaiian beachy flip for the hell of it. Photo Stroh mid 2000′s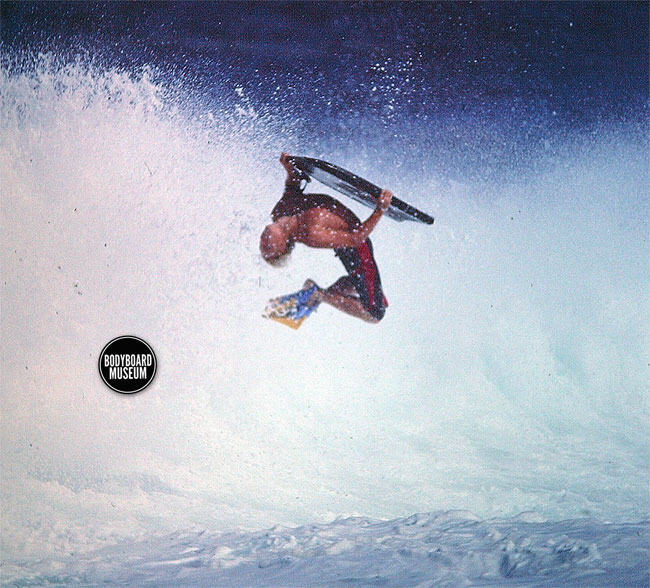 Lanson Ronquilio spreading the aloha, this shot was taken of the stylish Hawaiian early 90′s. Ronk was just starting to fire and his name was on everyones lips.This was pre No Friends, photo Stroh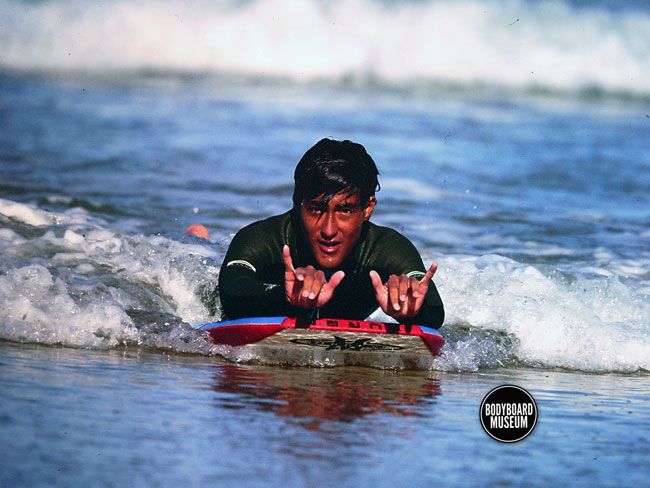 At age 16 a skinny blond headed kid who just moved to the Gold Coast from Wollongong hooked up a sponsor with Manta and Billabong and in the coming years would  captivate the world of bodyboarding with his calculated and stylish take it to the next level riding. This pic part of a 5 shot sequence was taken at Shark Island. As usual Mitch loves to tweak it and yes he made it. Photo Stroh Circa 2000′s.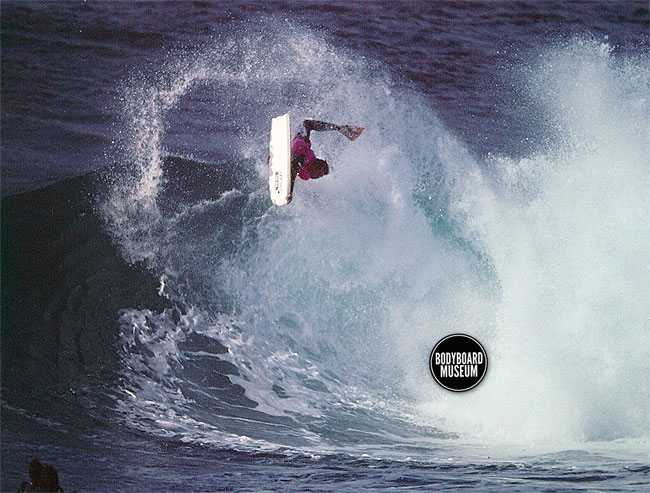 In the early 2000s  Jay Reale organised a tour of the North Island of New Zealand mainly because he wanted more than anything to surf Raglan. It was only the 2nd time a group of travelling Pro Bodyboarders sampled the Kiwi hospitality of long point waves and freezing spanner water. Jay got his wish .Checking out a Geyser from left Jacob Reeves (just back from his honeymoon) Jay, Eppo the prankster, Nelz (not happy with the cold) and Vicki  Gleeson  photo Stroh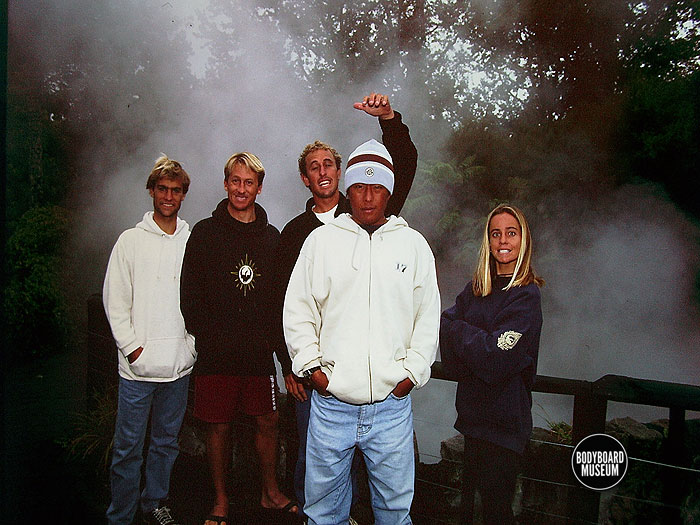 Matt fits into the category as a "rebel purist". Pretty much all Dropknee riders do otherwise they would prone and enter all the comps. Matt would rather take the money and surf for fun and when the pic below was taken he was at the top of his game. He'd taken over as the DK mainman from the goofyfoot domination of  AKA, Roach and Ballard who all went into semi retirement. Lackey has the biggest grin and when he is having a good session or just nearby its contagious and you can feel it eminating. Photo early 2000′s at OTW by Stroh