HISTORY
Posted: April 27, 2012 at 5:31 pm
When Mike first unleashed his huge forward air at Pipe it was the craziest move the sport of Bodyboarding had ever witnessed. Mike was so far ahead of other riders at that time he was virtually untouchable. Big forward airs are now part of most top professionals repertoire but even today few look as natural or as eye pleasing as when Mike busts one out. Photo Stroh.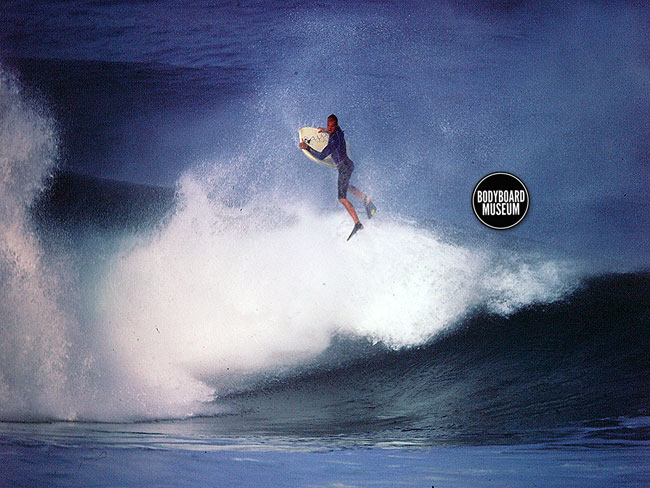 Not sure who this rider is but the shot was taken around '77 by Bob Barbour it was just one of 1000′s of surfing photos taken during the seventy's by many of the worlds best cameramen back then that were lost for decades but have recently been found. Pipeline was the perfect arena for bodyboarding and its no wonder it is still the epicentre of the sport even today.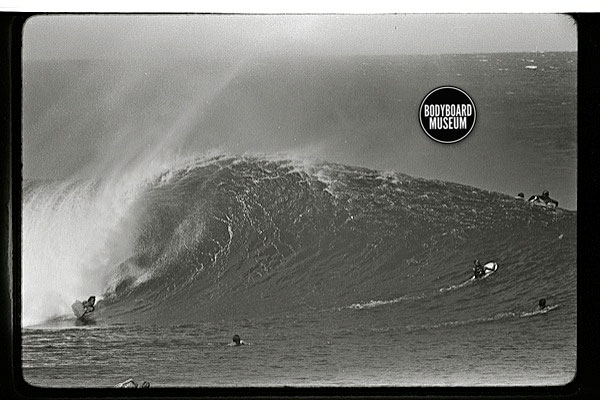 When Mitch first rocked up to Hawaii as a young grom in the late 90′s no one expected to much. Back home in Oz his reputation was growing but on the Northshore he was a virtual unknown.Rawlins put his head down and went about creating a name for himself on his Manta bodyboard and  Blade fins. His free surfing soon had tongues wagging that Australia had another Super grom coming up the ranks. This shot was taken by Chris Stroh at Off The Wall during that first trip.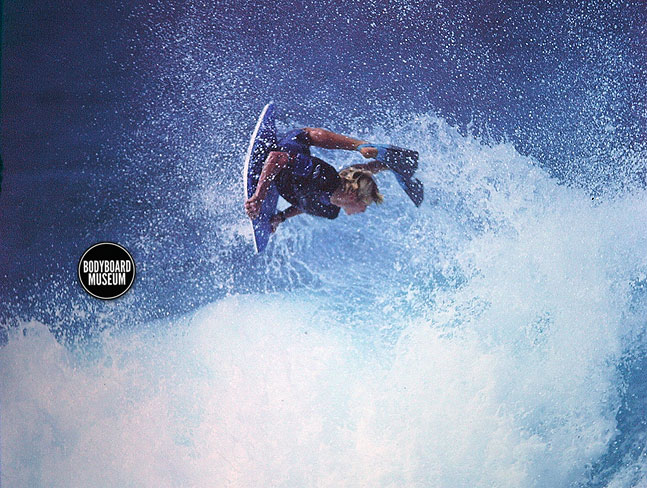 Reunion Island in the mid 90′s was a favourite place for the Pro World Tour bodyboarders to travel, hangout  and compete. Between the long lefts of St Leu and the short hollow rights of St Pierre many a crazy free surf session went down as the worlds best played in the idyllic waves and indulged in the seductive French environment. Dropknee master Keith Sasaki pictured  below was one of the standouts at St Pierre. A virtual man-made wave it breaks into a seawall built with large boulders that can offer rip-able barrels and sections with a similar setup to Town Beach at Port Macquarie, but with thousands of sea urchins  . Photo Stroh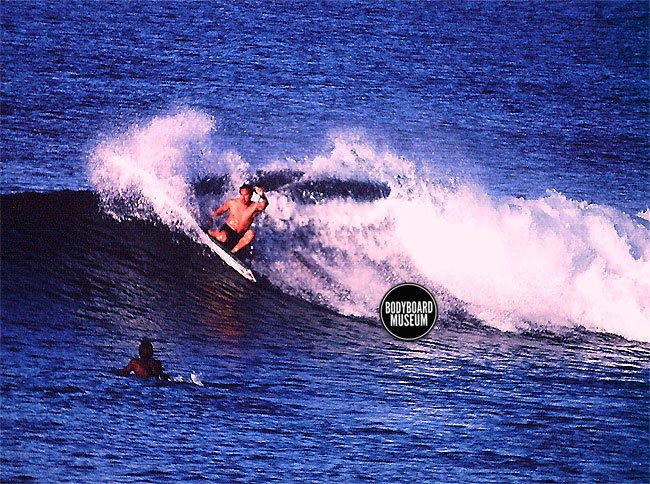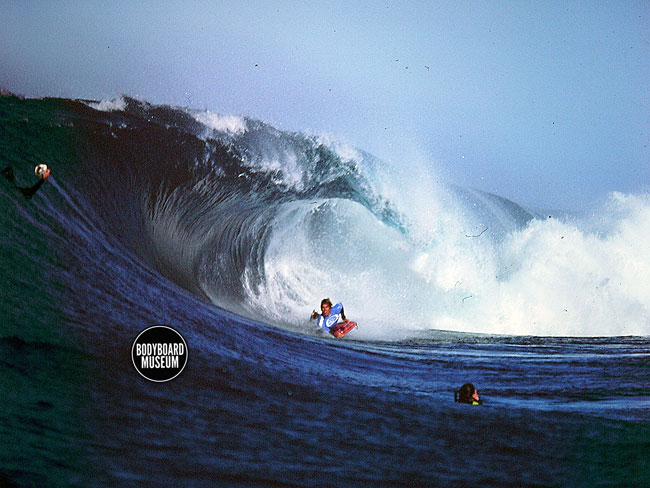 2002 was the first year that Guilherme Tamega from Brazil won the prestigous Shark Island Challenge. This year was the first time the event was run as an International sanctioned event of the World Tour. It was the first of three consecutives SIC titles won by  Tamega who remains the only person ever to win  three straight SIC titles. He would eventually win his sixth world title that same year.
When it came to Dropknee the Hawaiians were definitely leading the way throughout the 80′s and 90′s. Names like Jack Lindholm, Kainoa McGee,Keith Sasaki, Aka Lyman, Kyle Maligro, Harry Antipala,  Joey Viera, Robbie Gall and Jacky Buder are just a few of the standouts. Below is Fred Booth who also took dropknee riding to the edge of performance  as part of the Custom X team in the 90′s. Floating on the lip like a butterfly at OTW photo Stroh.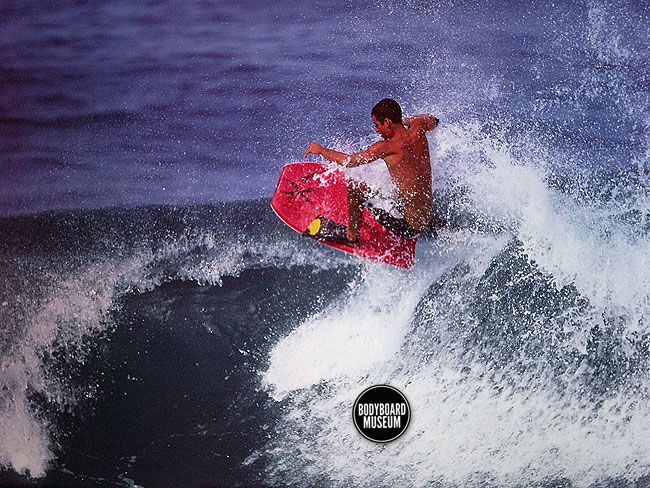 Wonton took over the reins of stand-up bodyboarding from pioneer  Danny Kim in the 90′s. He rides  stand-up  better than most surfers even without the luxury of a fin. When he paddled out at Beach Park in  Hawaii his multiple spinners would blow people away. Apart from the tricks he could also hit the lip and pull all the cutting edge moves. A classic Northshore character, Chris constanly has a big grin always on his face.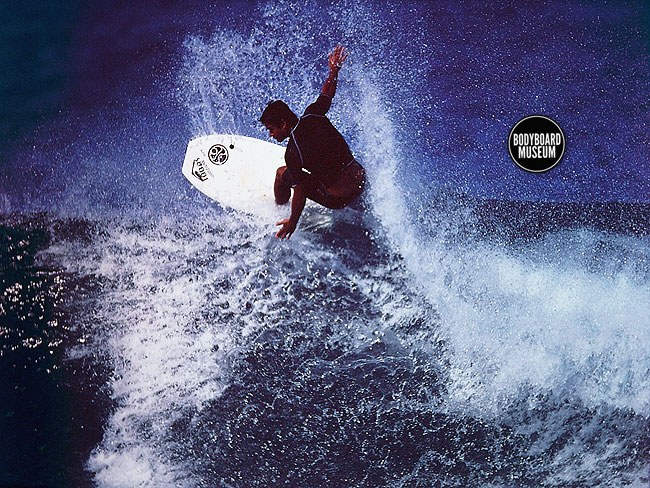 Circa early 80′s.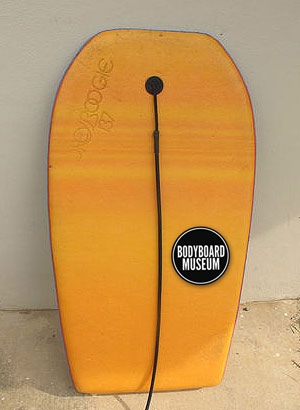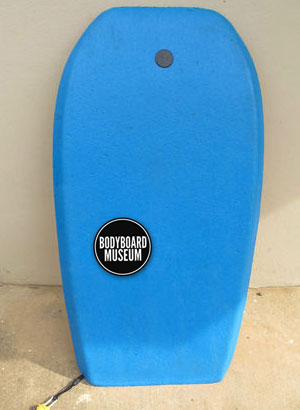 Maligs was one of the most flamboyant and unpredictable bodyboarders in the sport throughout the late 80′s and 90′s. At Off The Wall he would always  standout doing the weirdest and most cutting edge moves. On the beach he was a walking side show as well with his coloured hair and bright apparel. You never knew what he was going to do next.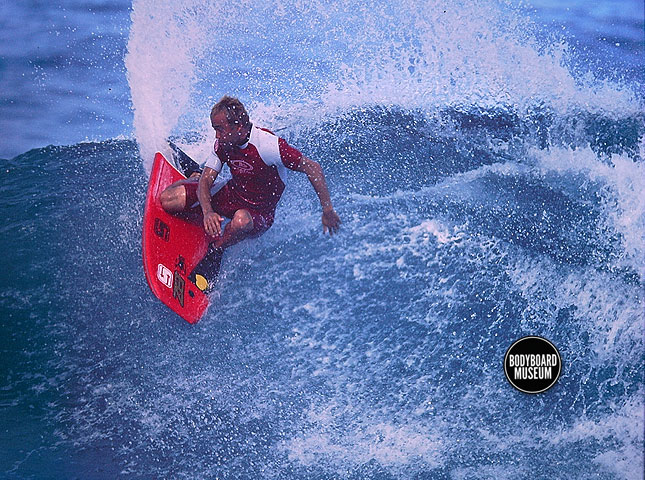 In the early 90′s John Holmes created Paipo Bodyboards and PJ Hyland was there star attraction. This is the first poster that accompanied the boards and PJ model. The name was later changed to Rheopaipo  (Rheo meaning one) after a copyright issue. Photos by Stroh