HISTORY
Posted: June 20, 2012 at 11:53 am
Every now and then The Northshore can become a little hectic so some of the boys like to jet off  to one of the outer islands for a quick escape. This day the waves were firing all along the beach in a series of  A Frames. The crew consists of Hubb, Maligs, Eppo, Burkes and a few local friends. The current was ridiculous so they used a car as a shuttle to take the boys back up to beach drop them off then pick them up once they drifted way down the line and then start over. It was impossible to paddle against the rip this day. Photo Stroh late 90s.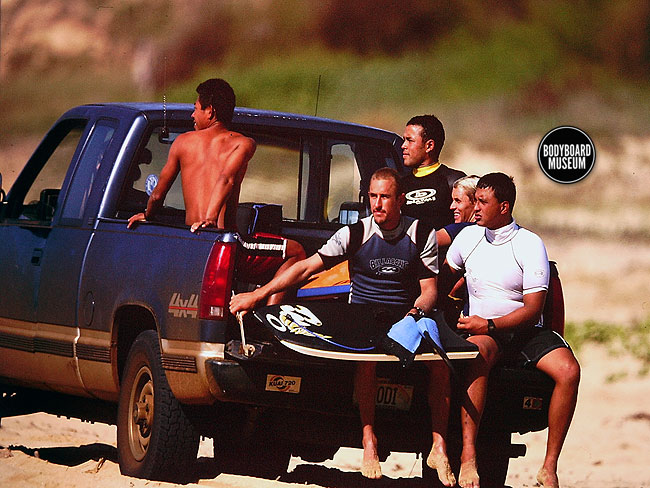 In the mid to late 90′s Manny Vargas was a familiar face at Off The Wall during the winter months. The colourful Manny with fis fluro hair and clothes had his DK routine down to a fine art and would have the cameras blazing every time he took off. These days Manny has toned down his ego and is now the mouth of IBA Pro Surfing running the commentary at all the Worlds Tour events. This shot Backdoor hack late 90′s photo Stroh.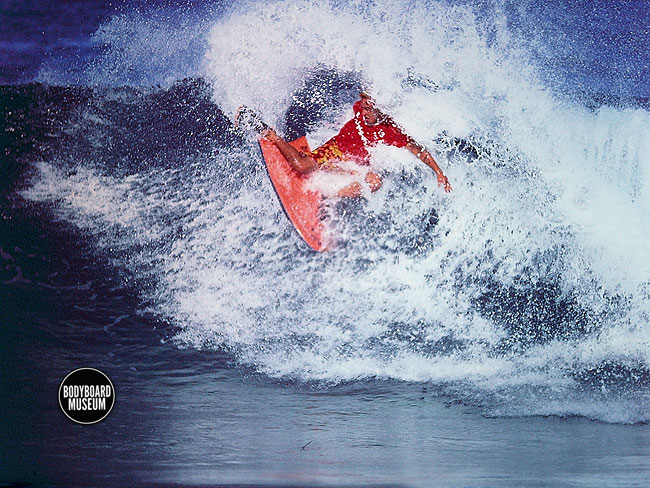 In the 90′s French speaking Matt Walbrou was one of the big wave standouts on Hawaiia's Northshore. When it was maxed out and stormy Matt along with Brian Wise, Tamega, Alistair Taylor and a hand-full of Aussies led by Steve MacKenzie would push the boundaries. They were taking waves that no one else wanted, surfers were no where to be seen and the hordes of photographers wern't filming. The conditions were borderline crazy and Matt would take the biggest drops, get hammered and come up smiling on many waves. Most sessions he would pull into the epic keg totally stoked whether he made it out or not. The sport lost a true legend far to young. This pic Circa 90′s Matt Walbrou smooth and cool under pressure at Pipe photo Stroh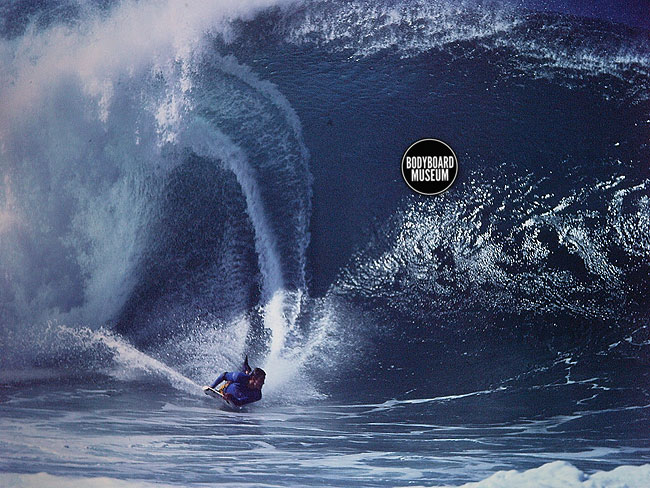 FJ's was a closeout shore-break barrel a lot like I Don't Knows in Hawaii that became popular with Northside bodyboarders and photographers for its photogenic qualities. Dave Appleby from Narrrabeen was one of the first to capitalise on FJ's. It was  named after a nightclub situated across the road at South Narrabeen. Ridtide and Aussie Bodyboarder Mag were litterally filled with FJ"s barrel shots in the 90′s as it was more like a photo studio setup than it was a make-able wave. This day I lost my camera when the housing sprung a leak and it flooded. Photo of Dave Appleby early 90′s by Stroh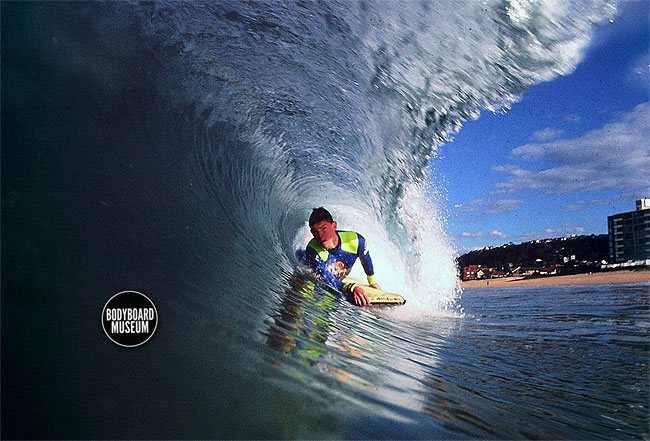 Chris Cunningham From Huntington Beach C.A. USA was a team rider for 6 years with  Morey Boogie USA .In the late 80′s Chris was one of the mainlands most consistent contest performers. He placed first in the ISA World Amateur Champions (1988) and was Ranked 8th on bud pro tour three years . Clip below features Chris DKing back in the day.
Schoollboy Adam Lester was the latest  bodyboarding prodigy when this snap was shot late 90′s. Lester grew up surfing in the dog eat dog environment at Cronulla and was quick to standout both as a contest winning machine as well as a strong free surfer. He has huge respect at Shark island and after a recent few years semi retirement he's back once again shaking up the Pro tour circuit as a formidable opponent. He is one rider that continues to get better with age. Photo Stroh.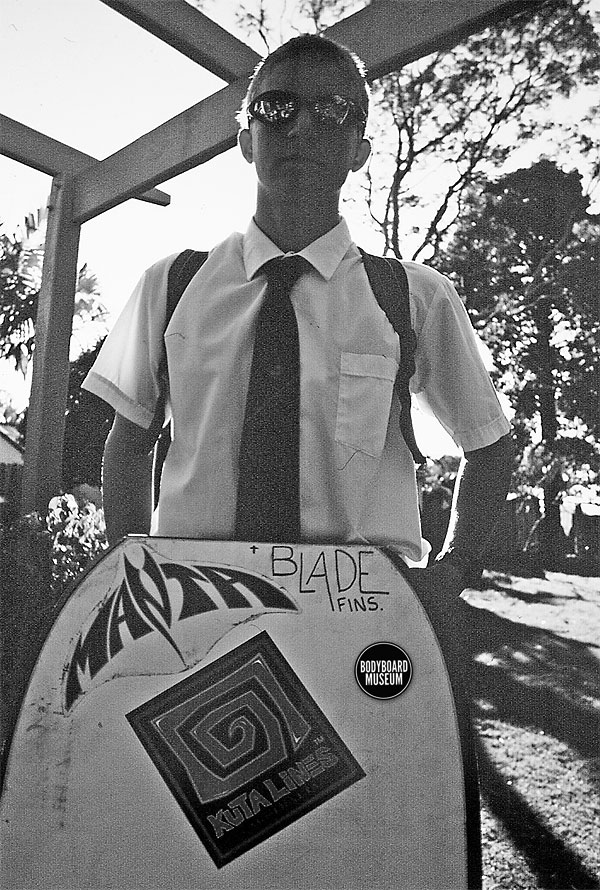 Wingnut in his prime carving a clean line out of the bowl at Surge. Adam had shot up considerably in size since his micro-grom days and was now packing some muscle into each turn. A damn fine tube rider as well. Photo by CSP Circa late 90′s.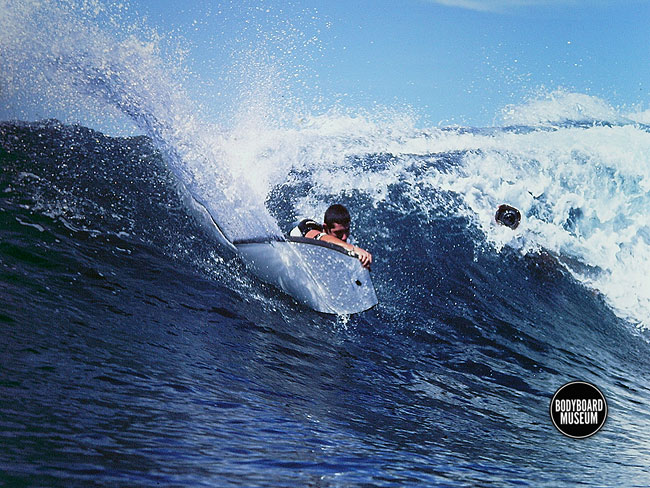 The first time I witnessed Jeff Hubbard in the flesh was  in Jan '93 surfing  at Beach Park on a half metre sloppy fun day and he was dropneeing, pretty good I might add. Id heard tales that he was the next big thing coming out of Hawaii. A few days later I saw some of his aerial hi-jinks at Off The Wall and have been a big fan ever since. This move was just typical of Hubb and the amazing thing is he's still pulling them every other day. Photo Stroh Circa 90′s.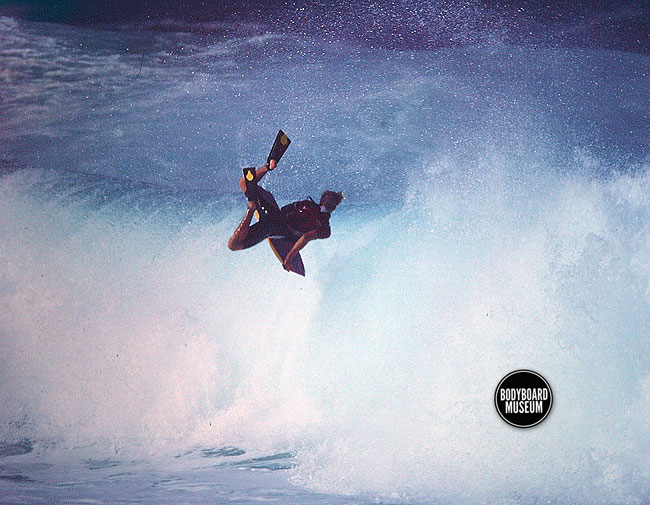 Eppo , Youngy and Macca check out the lineup at St Pierre in Reunion Island. Reunion was one of the fun spots of the tour and the waves always seemed to co operate for the touring pro's during their stay. Photo Stroh '96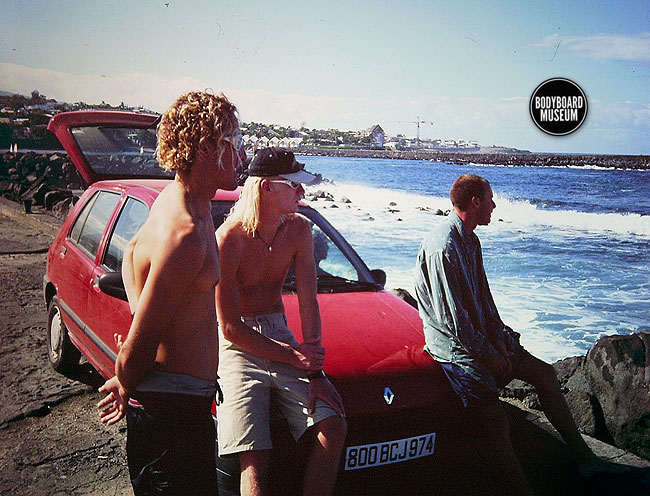 It began with Tom Boyle and his in depth fish eye photos at Sandy Beach that photographers and bodyboarderss have shared a unique vision. Tom was the first to really get  up close and personal shots inside the tube. Since then bodyboard photographers have been at the forefront of getting different angles. Aaron Lloyd began experimenting with pole cameras and pictured below Flindt captures Jay Reale using a pole rig at Off The Wall trying for that elusive photo edge. Many of the top water photographers today were former boogie riders like Tim Jones, Scott Aichner, Chris White, Scotty Carter, Toinz, and Trent Miller.Photo Chris Stroh Circa 90′s