HISTORY
Posted: May 21, 2012 at 9:50 am
Tahitian Matt Walbrou grew up surfing perfect but dangerous reef waves on his tropical Island home where he developed into a world class tube rider. The French speaking Matt later moved to Hawaii where he quickly became a standout at Pipeline throughout the 90′s with his gutsy go for it charging when the waves were at there maxing  best. This shot taken back in Tahiti at an unknown reef by Werneck early 90′s.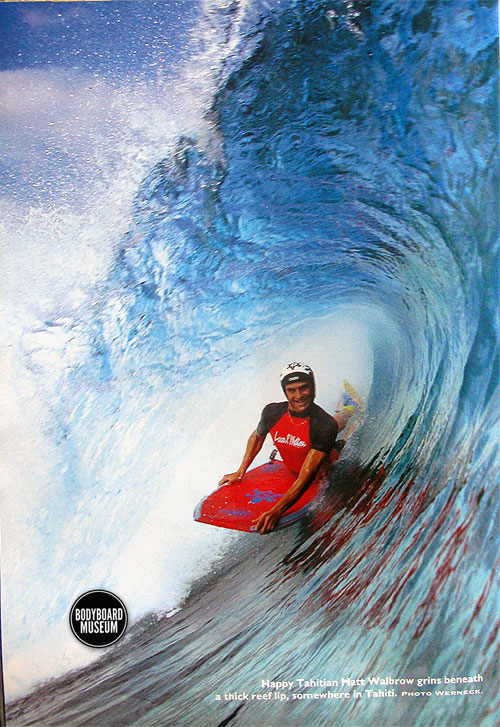 Growing up surfing on The East Coast of USA Marylands Jay Reale was quick to learn Dropknee which suited the often less powerful beach break conditions he was faced with at home. In the early days Jay used skegs to help his turns to win contests. A few years later Jay took his act global and was busting the kinds of big moves that kept the photographers,mags and sponsors happy. Off The Wall float early90′s by Hoover.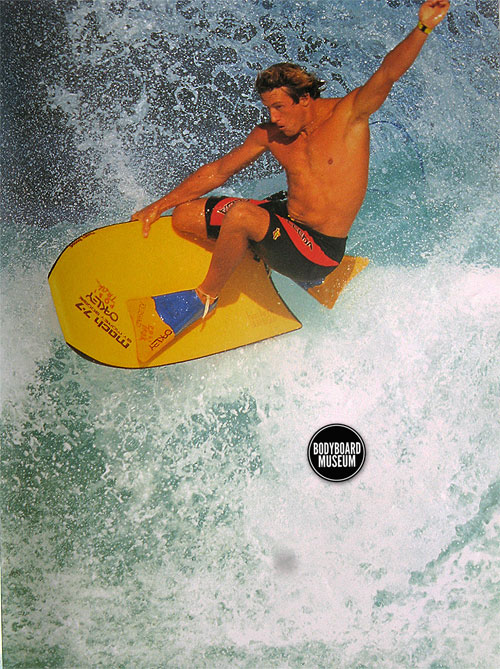 Chris Bystrom renoun surf film maker produced 3 Bodyboard movies in The Blast Off series in the early 90′s. Chris filmed in 16mm and featured a heavy helping of the latest Hawaiian action of the day.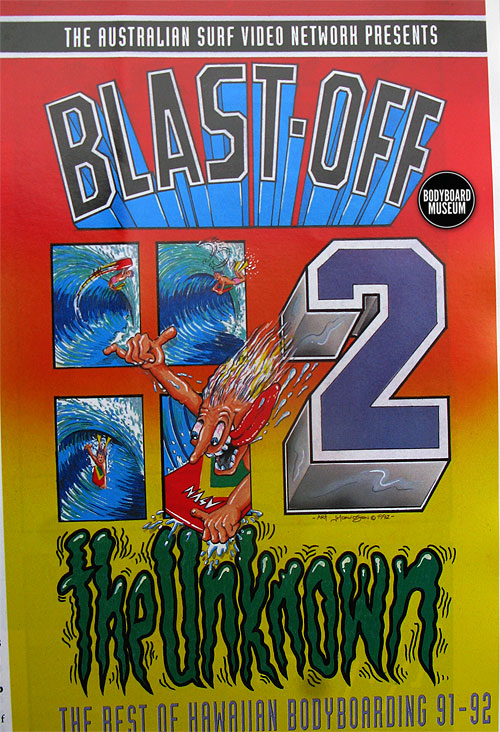 During his gun years when Mike was winning every contest and being exalted as the best bodyboarder in the world the king of Pipe was rarely seen without his O'Neill wetsuit. Looking slick, Photo early 90′s.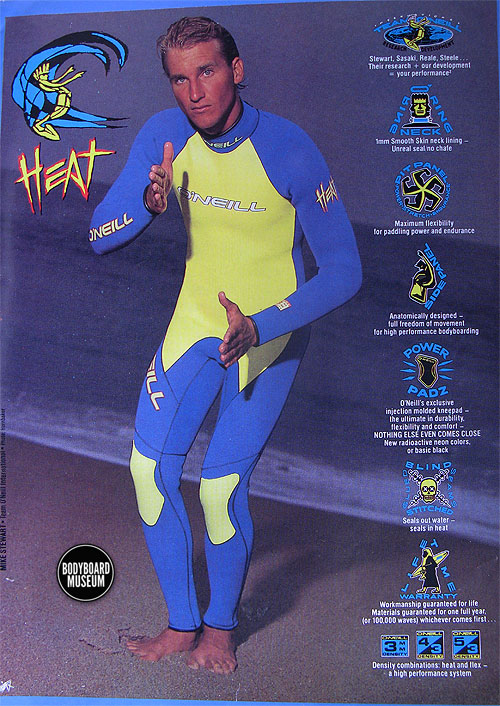 Hawaiian born and bred, Joey Viera grew up surfing the Northshore at reefs like Velzyland and Rocky Point. During the late 80′s early 90′s Joey had his DK moves down and was one of the most spectacular Dropkneers on the Island.Billabong advertisement shot by Brian Bielmann.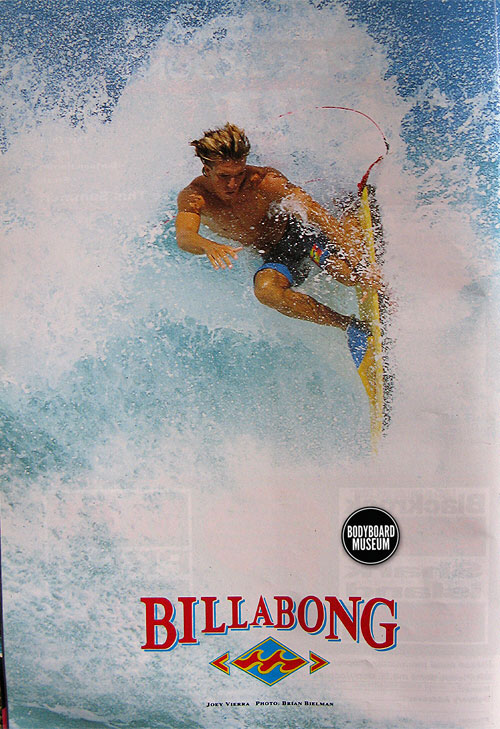 Riding waves and gloves for paddling have never been popular. While they have been proven to increase paddle power the unnatural feel and look have limited there retail success. Many companies have tried but most have failed. This advertisement from the early 90′s features Pat Caldwell spruiking a pair of TFL Power Gloves.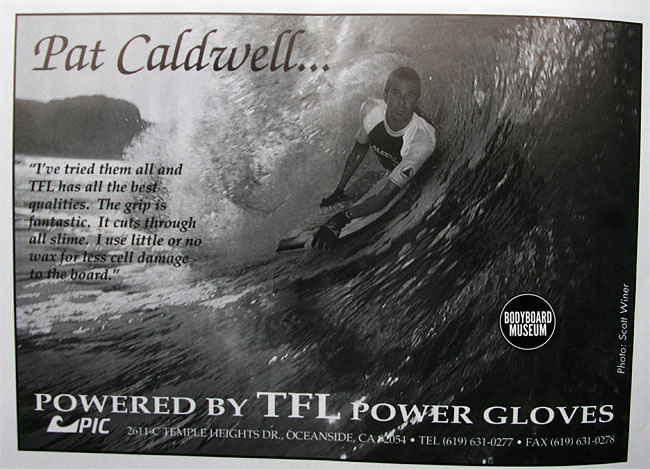 Complete with fins this Morey Boogie 136 was purchased in '79.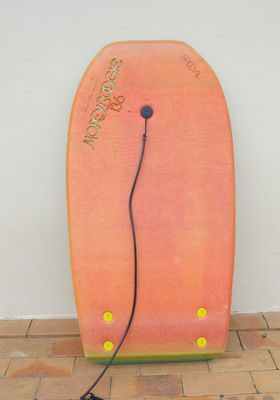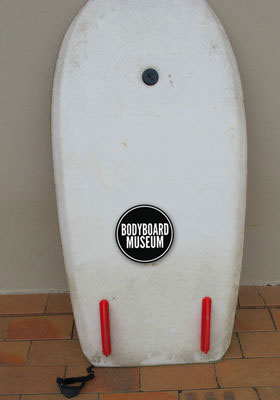 Chaz McCall was the  first bodyboarder to really charge Shark Island in the late 70′s. By the mid 80′s Dougy became his apprentice and soon followed the same path by taking waves that the surfers could not ride all handle. Where Chaz was pure go for it , Dougy took it a step further and began making the waves his main goal. Before long he was one Australias first bodyboarding media stars as photos of his tube riding skills and "Doug airs" began appearing around the globe. Unfortunately he was cut down in his prime when he broke his back in a wipeout and was forced to retire prematurely . Dougy enjoys the view  in the early 90′s photo Stroh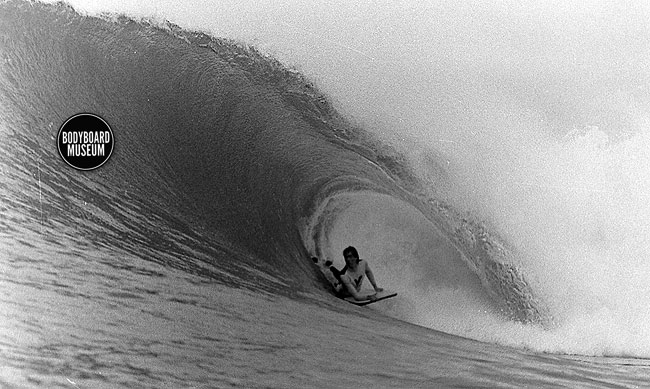 Adam Smith began bodyboarding at a very young age , by the time he was 10 years old he already had a name in the sport. Wingy was the first bodyboarder to be sponsored by Manta and by the time he was 12 he was already a regular in the Shark Island lineup where in the coming years he would earn his place at the top of the pack as one of the best of the all time Island crew. Below Wingut shows where he got his nickname photo Stroh '89.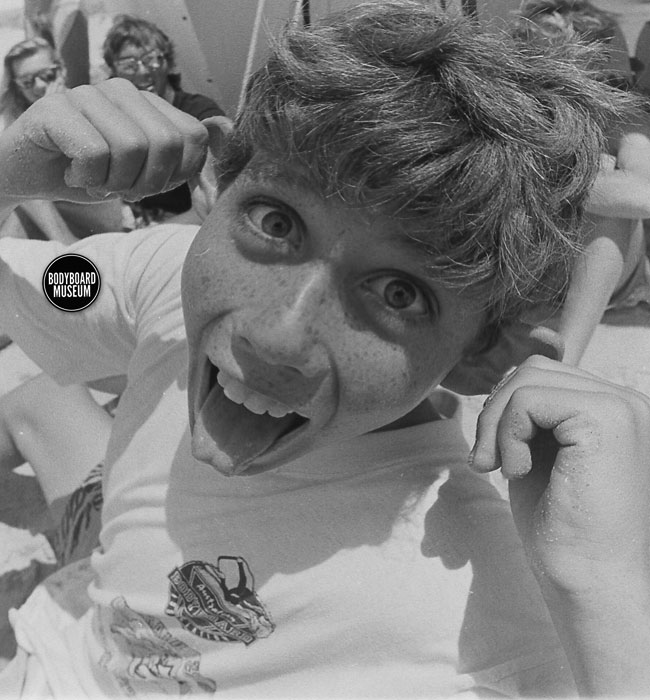 Free-Falling  at Shark Island is one advantage bodyboarders have over their surfing rivals. By taking off deeper and earlier they can catch waves that surfers can't. This photo shows and unknown charger risking life and limb by dropping dangerously from the lip as a  mountain of water is about to explode.  Photo Stroh early 90′s.