HISTORY
In January '93 a little known bodyboarder from the mid north coast town of Port Macquarie ventured to Hawaii to try his luck in the World Title competition. Heat after heat he advanced by using a combination of turns and aerial moves. On the final day of competition the waves had all but vanished. During his semi final heat Eppo pulled a Double Roll the first time this move had ever been seen in a contest or public for that matter. He advanced to the final to battle it out in the half metre swells with Tamega, Stewart and Aka Lyman. While the others sat at Pipe waiting for the miracle ride Eppo notched a couple of long waves at Backdoor allowing him to launch a huge air rollo and room to pull a series of combo moves all the way to the beach. The country kid who only saw the ocean for the first time a few years early had done the unthinkable. Not only had he won The World  Chamionship Trophy but he ended Mike Stewarts stranglehold over the title as well.The photo below shows Eppo reaping the benifits of his victory by signing a lucrative contract with Mantas Terry Fleming a short time later. Photo Chris Stroh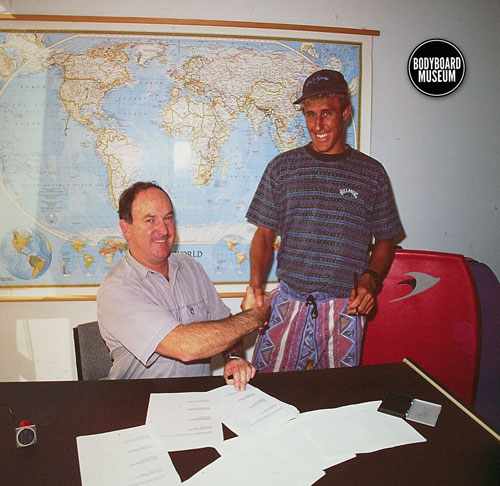 Steve "Bullet" Mackenzie from Maroubra is one of Australia's most respected bodyboarders. He won the first contest he ever entered that just happened to be a Aussie Title. Macca went on to dominate the local comp scene notching up many State and National titles along the way. Bullet in the early years was winning with his dropknee but after a wipeout in West Oz wrenched his knee he switched to prone. In 92 he placed 6th at the World titles at Pipe. Then in '98 he beat 2nd Kainoa McGee, 3rd Danial Rocha and  4th Alistair Taylor to win the most prestigious crown in bodyboarding in maxing conditions. Macca also in 98 won the sports other most desired trophy the Shark Island Challenge. Bullet is best remembered for his classic lines and his smooth tube riding skills, no matter the size.These days Macca keeps a pretty low profile, fishing and surfing mostly away from the crowds.This pic was snapped late 80′s in The Bra shorey  photo Chris Stroh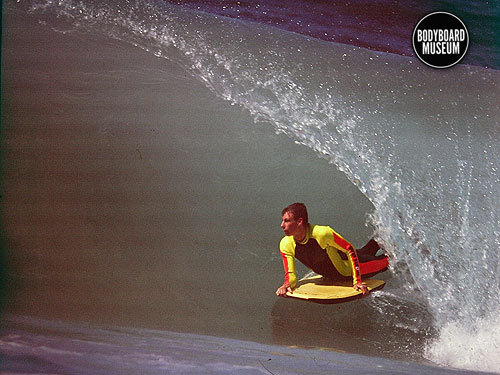 Regarded as the ultimate style master Skip is envied by most bodyboarders for his effortless flowing moves. After relocating to the Northshore from the Big Island around 95 he soon began making a name for himself. Riding for Morey Boogie he became a favorite with photographers. His first big break was the Riptide Annual cover when he was captured hitting the lip at Gums during the Pipe trials. In the 95 Pipe event Spencer placed 2nd behind Mike Stewart. The result launched his career into the Pro ranks. In 98 he teamed up with the No Friends crew and changed the way we looked at bodyboarding with break through videos that were well ahead of their time. In 2003 he once again placed 2nd at Pipeline behind Kingy. Skipps burning ambition still today is to win a Pipe title. Today Skips still living on the Northshore ripping as usual.   Photo below Off The Wall forward air by Stroh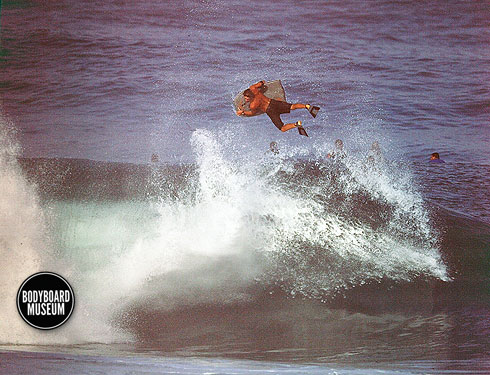 Daniel Kaimi was one of the sports first big wave chargers when he began taking off on the outside reefs at Pipeline in Hawaii during the 70s. When Daniel first ventured out he had to prove himself to the standup surfers to be accepted as he was the only bodyboarder at the time in the lineup. Known as The Boogieman he  began pulling crazy Air Rollos and other new moves. With his wild afro he caught the attention of Chris Bystrom and appeared in the early 80s video Blazing Boards. This was the first footage of a bodyboarder captured charging big Pipe. In 82 at the first Pipe International Championship he beat Jack Lindholm 2nd and Mike Stewart 3rd to become the sports first official World Champion winning $1500. A year or two later Daniel disappeared out of the media after a run in with the surf magazines and photographers who boycotted him after he tried to sue them for using his image without payment. Without media coverage Daniels career came to a quick stop.   Pic below The Boogieman taking the drop at Third Dips on the Westside photo Stroh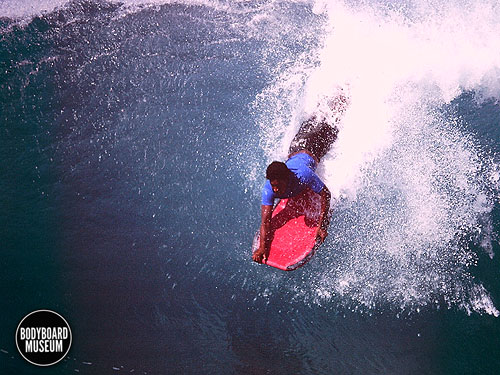 Port Mac boy, Rick Bannister throughout the 90's was a familiar face in bodyboarding. Known for his DK skills, deep tube riding in Hawaii and his time as editor of Riptide, Banno was always a standout from the pack. In this shot seen getting DK air at Forster, Rick was keeping in the running with other extroverted characters like Malig's and Manny Vargas by sporting a full fluro pink hairstyle. At least you couldn't miss him….Circa late 90s pic Stroh.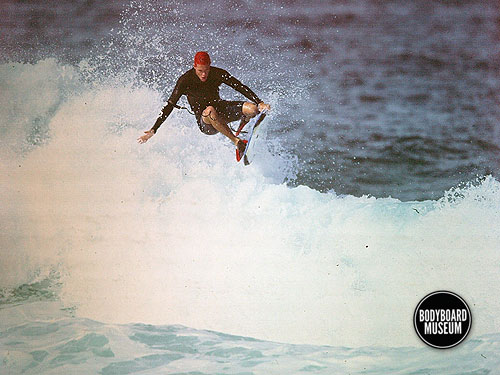 Growing up in Tahiti, Matt grew up surfing perfect shallow sharp reef waves and was renown for his fearless go for it approach. When he ventured to Hawaii to compete at the World Championships at Pipeline his smooth casual style was well suited to Pipes hollow barrels. On the biggest maxed out days he was always one of the first out, taking the sets and pulling in regardless of the consequences. In '94 he placed a credible 4th in the final of The Morey Boogie Pipe International contest. Tragedy struck in 2001 when along with fellow Frenchman, David Legleye the pair were killed in a car crash returning from a contest. His forever smiling face will be missed but never fogotten. R.I.P     Below Matt eyes the prize at Backdoor. photo Stroh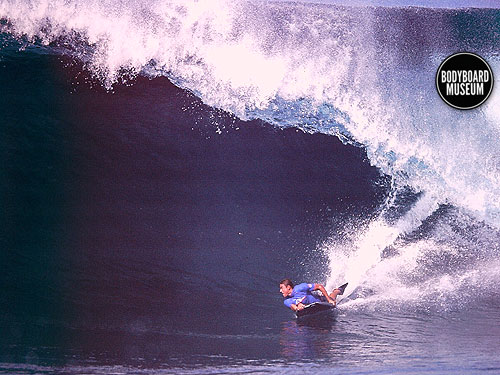 Adam "Wingnut" Smith had the honor of being one the first bodyboarders to be sponsored by Manta in the late 80's. By the time he was 15 he was already regarded as the Super Grom of the sport. He was winning comps, traveling the world, charging Shark Island and he was living the life. When Terry Fleming from Manta and he got together in the early 90s in the shaping bay they came up with The Wingnut Grommet board. It was the first signature board to cater for younger kids. The following summer on its release the board hit the best sellers list in Australia.  Below, Wingy and Tezza work on the design. Photo Stroh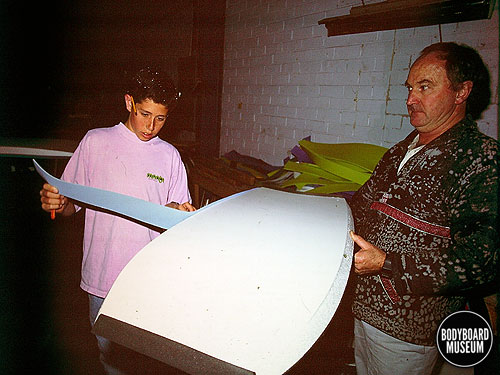 Jay came from Rockville Maryland on the East Coast. He began surfing at Ocean City and was soon entering contests. In 82 Jay was the East Coast Champion and his next move was to the West Coast and settled in at the super competive T Street with Keith Sasaki . By 87 he was building a name with his prone and Dropknee surfing and spent his first winter on the Northshore. Jay concentrated on getting photos published and pulling in sponsors and portraying himself as a clean cut pro rider.In 89 he placed 4th at Pipeline. After years of chasing the World Circuit he became best known as mainland USAs best known rider. Today he is married to fellow bodyboarder Vicki Gleeson , raising a family and running Ebodyboarding.com   Blackrock reverse pic by Stroh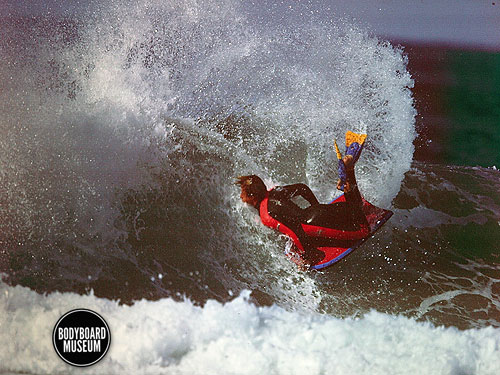 Young Tully Beevor came from Avalon on Sydneys Northern Beaches and it wasnt long before his reputation began to spread about the kid with the text book style riding a Morey and with snowy white hair. In 1995 Tully hit Hawaii and forged a name for himself with a gutsy go for it performance. The video Ocean Fire captured Tully in full flight and he was soon being lauded as the next big thing. Not long later the Avalon kid who had shown so much early potential lost interest and faded from the scene. Another wasted talent who went underground before hitting his full potential   pic Stroh mid 90′s.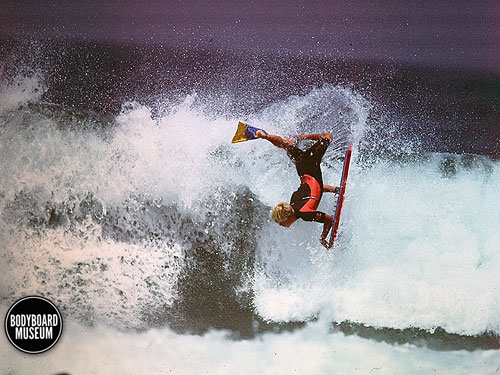 Paul Barnard centre was Qld finest bodyboarding exponent for many years notching up several Aussie titles. Greg Jarret on the right was the Gold Coast hottest newcomer who carried a heavy ripping rep. The pair who ride for Morey Boogie at this time check out the new board model 8 -TX with Morey Boogie Australias head honcho George K. at Burleigh Point late 80′s. Barny's is now the Qld rep for Morey.     pic Stroh