HISTORY
Posted: August 30, 2012 at 6:56 pm
This is the actual Ben Holland Twisted Flip move performed on the Back Beaches near Crescent Head near Port MacQuarie that gave Eppo the inspiration to invent The Air Roll Spin. Both moves were caught  on film by Strohy who had the honour of introducing Eppos ground breaking ARS to the bodyboard world in Underground Tapes 4 "Ballistic" as well naming  it. Photo Chris Stroh.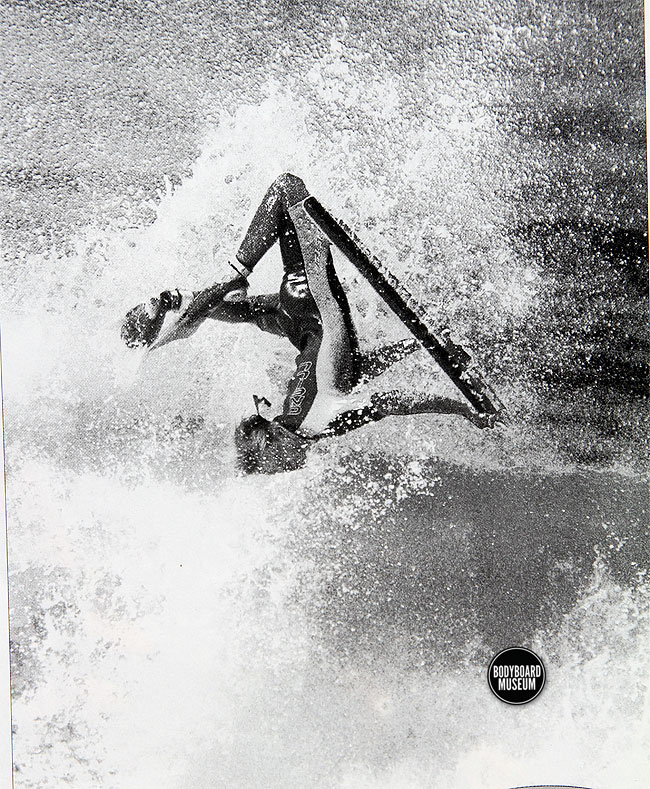 Throughout the 90′s VHS ruled and most bodyboard movies were shot on Hi 8 quality. On today's standards Hi 8 movies and VHS are very low sub standard quality and don't hold up to being shown on large TV formats. Hi 8 cameras  were cheap and nasty and by 1999 the market was flooded with assorted  low budget titles. Below just some of the better films from that year.
.From Top Left, Smorgasboard, Forgiven,Adolecence, Fumanchu, Stolen Ideas, Welfare, Rot 5.  Bottom row left, High Rollers, Justice For All, Minor Threat, Class of 99, Rush Junior High and Elevation.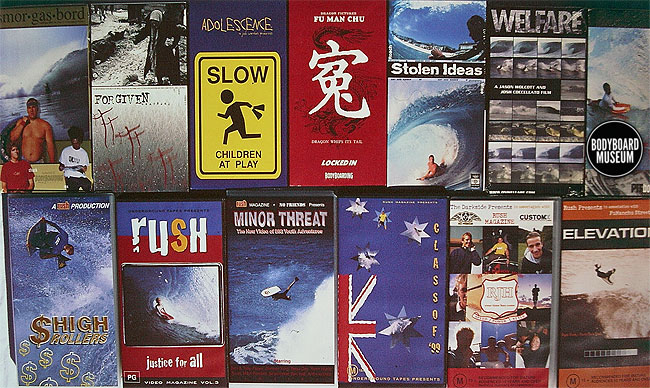 The Manta bodyboard range  1990.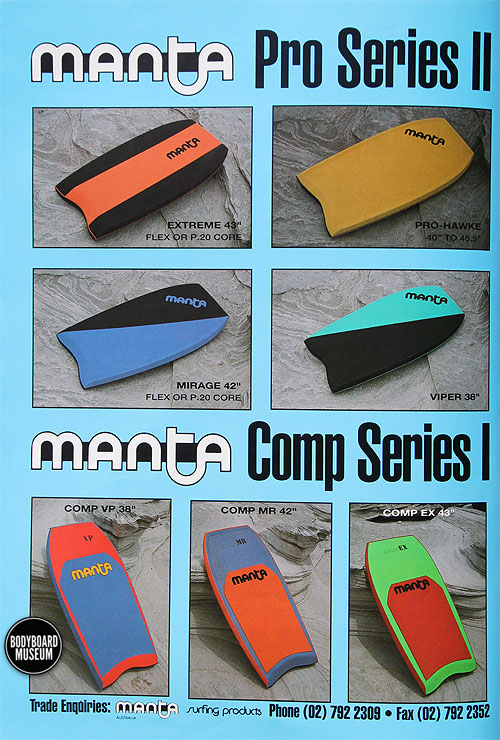 Monavales Mr Stylish, Matt Riley at I Don't Knows Westside Hawaii photo Hoover.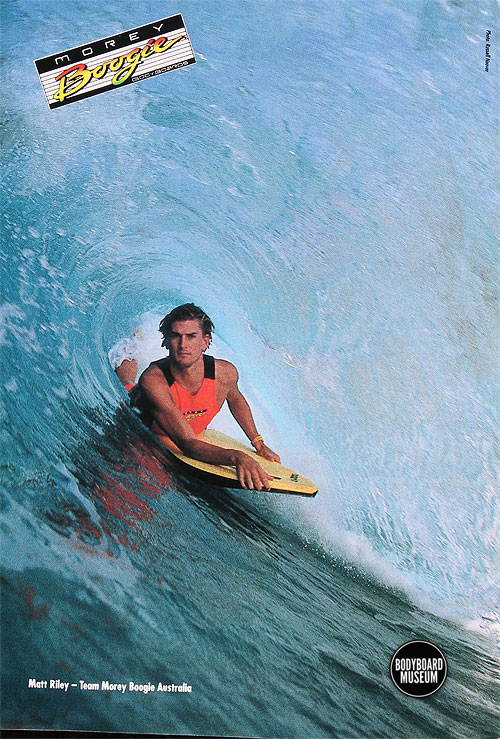 Kyle Maligro adv. riding for Kauai Classic/ Easy rider bodyboards early 90′s.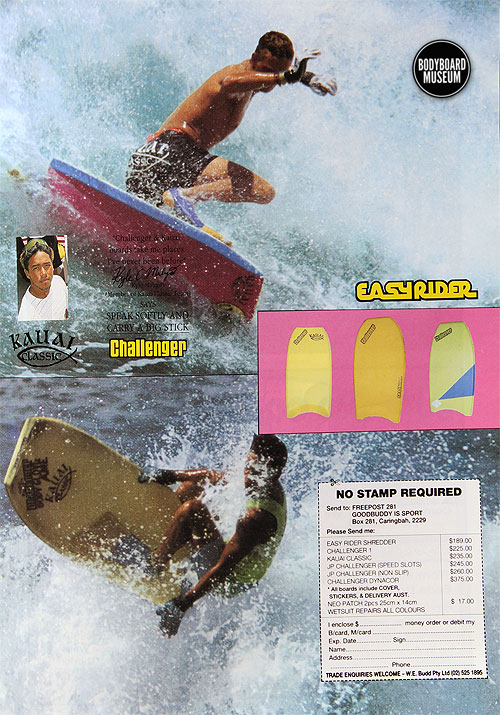 Developed at Huntington Beach the unique shape of Ion originated from an idea born back in 1998 by a man named Eric Pearson. Eric invented the "Double Hull" bottom technology, which according to the Ion team  the fastest board out in the market. This revolutionary "Double Hull" design is a patented design that is exclusive to Ion.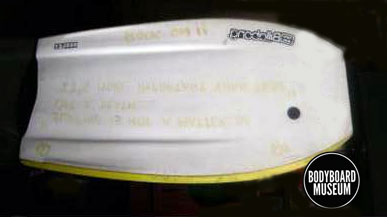 When photos began appearing of Mike surfing Waimea Shorey in the late 80′s it blew the Surfing World away. Others had surfed the Waimea Shorey before but not like Mike. Stewart took it  to another level and put a new aspect on what could be done out there.  Once the crowds moved in Mike let them have it and moved on to bigger and better playgrounds. Stewart below floating photo Bielmann.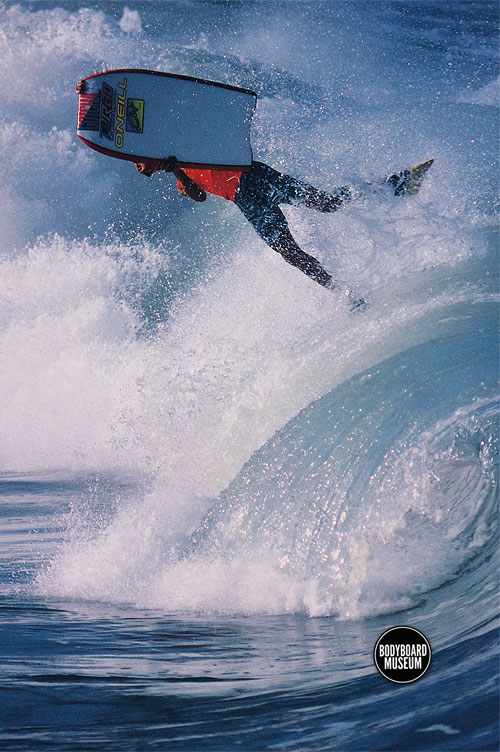 P:ersonalised board art done with a texta has been with the sport from almost day one. Back in the 70′s Hawaiian charger Danial Kaimi wrote "Till death do us part" on his board. Ever since there has been a continuous amount of customised graffiti ranging from works of art, to backyard scribble to even Mullet Dogs care of Paul Roach. Below Hawaiian bodyboarder Jason Lau shows of his early 90′s masterpiece. Photo Grambeau.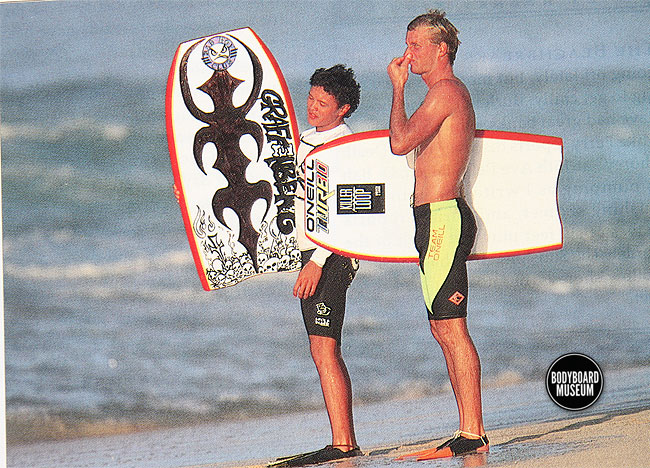 Paipo Bodyboards evolved in the early 90′s were the brainchild of John Holmes from the Central Coast in the early 90′s. Dave Appelby(pictured) and PJ Hyland were the first team members. The name was later changed to Rheopaipo due to copyright.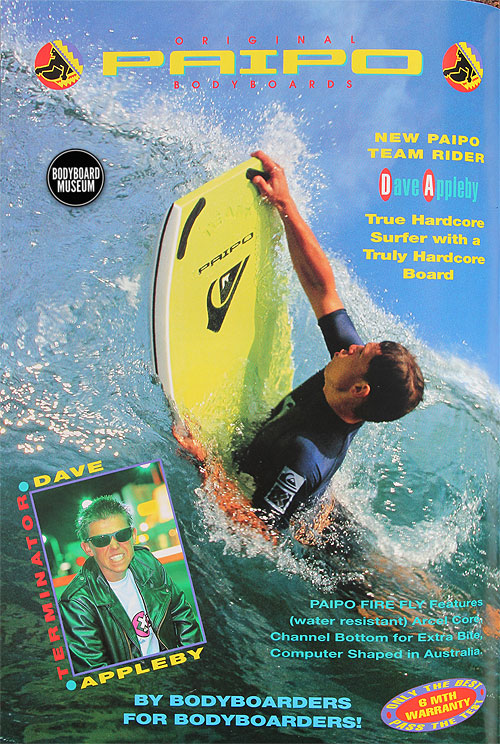 This Morey Boogie advertisement featured images from Australia's first pro competition.On the 28th Nov '82 surfing promoter Michael Petri organised the first official Australian Boogie Board Title. Held in marginal conditions at Dee Why 20 yearold Evan Penglis defeated ex surfing champion Mark Warren from Narrabeen on a countback. Queenslands Julie Rowbotham won the Womens division from Victorias Christine Okeefe. Not only were the pair crowned National Champions but first prize included invites to the inaugural World Titles in Hawaii in a months time. It also introduced the new Mach 7-7 model.