HISTORY
Posted: April 16, 2013 at 4:27 pm
Aussie big wigs of the 90′s. Benny owner of Down The line products, Dave Appleby, Mez, Eppo and Ray from Beach Street Surf Shops.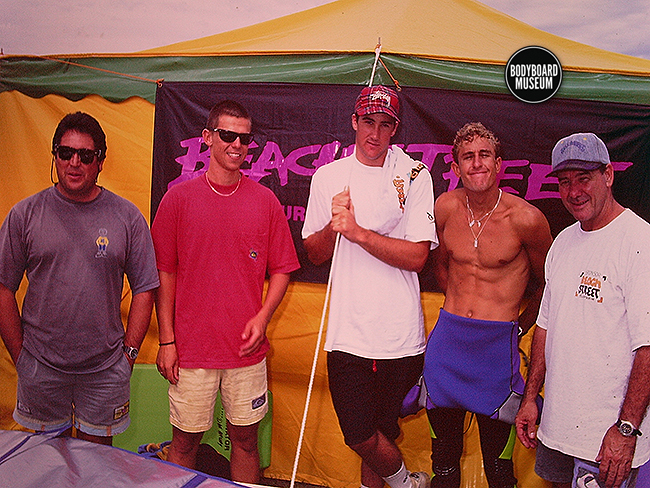 Eppo was a great innovator introducing new moves like the ARS and Backflip but what also set Eppo above and apart from other riders was his natural character. He was a one of a kind. What is lacking in the sport today and holding it back is there are no real characters like Eppo, Jay, Kyle and Hauoli any more. Bodyboardings image appears lifeless and dull from an outsiders point of view.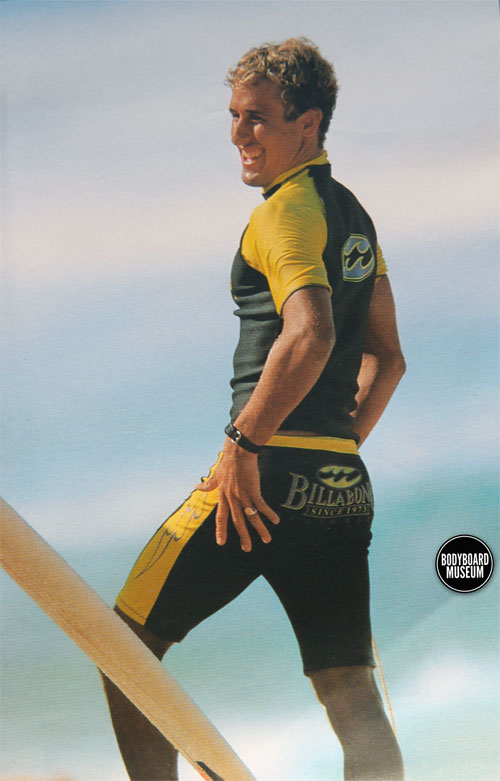 Every now and then The Northshore can become a little hectic so some of the boys like to jet off  to one of the outer islands for a quick escape. This day the waves were firing all along the beach in a series of  A Frames. The crew consists of Hubb, Maligs, Eppo, Burkes and a few local friends. The current was ridiculous so they used a car as a shuttle to take the boys back up to beach drop them off then pick them up once they drifted way down the line and then start over. It was impossible to paddle against the rip this day. Photo Stroh late 90s.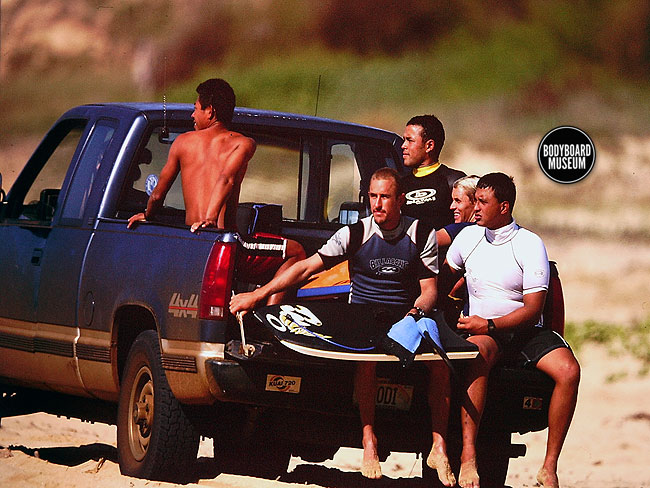 Eppo , Youngy and Macca check out the lineup at St Pierre in Reunion Island. Reunion was one of the fun spots of the tour and the waves always seemed to co operate for the touring pro's during their stay. Photo Stroh '96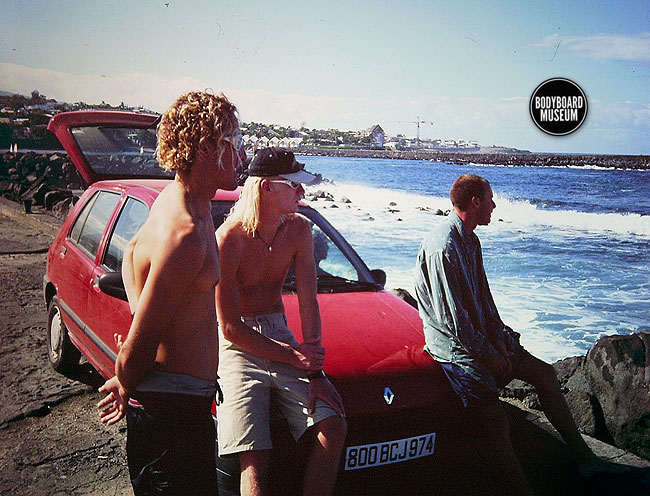 When Michael "Eppo" Eppelstun came onto the bodyboard scene in the late 80′s it would be only a few short years before he would revolutionise the sport with a new gymnastic style. Eppo busted big and it was his radical approach and determination to make a name for himself in the sport that drove him to invent 3 new moves in the space of a few months. At the time kids everywhere copied Eppo and nothing much has changed since. From  his huge airs to his ARS and backflip Eppo laid down the format that every bodyboarder now copies. Below Eppo with his eye on the lip ready to launch  Circa 90′s photo Stroh.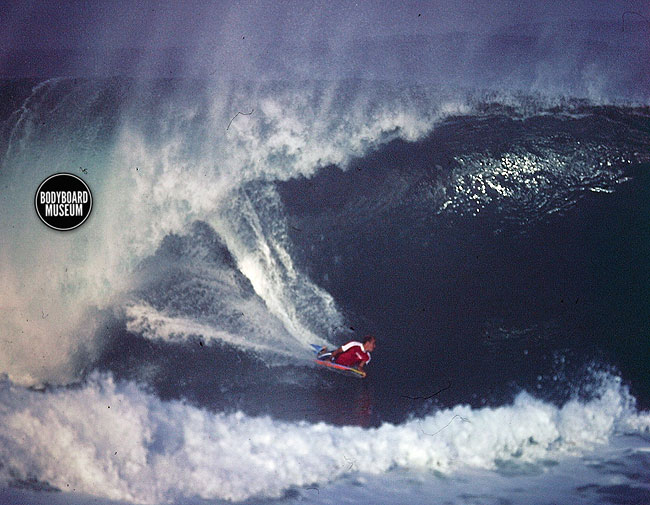 When I first met Eppo  he was full of hyper active energy. Eppo hated school so to make up for his lack of education he would love playing tricks and performing stunts to get attention.  When he discovered bodyboarding he put his physical skills to good use and with launch-able waves in his own backyard he redefined what could be achieved on a bodyboard. The original air pioneer gets freaky in Hawaii…photo Chris Stroh mid 90′s.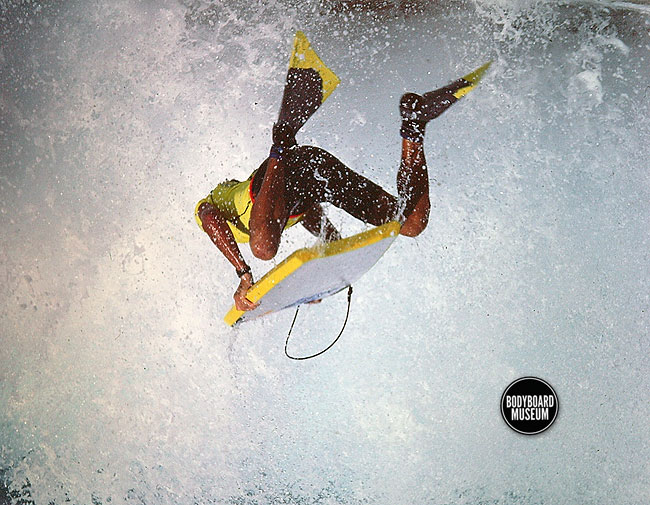 When Eppo burst onto the main stage of bodyboarding he quickly changed the sport forever. In Jan '93 he did the unthinkable by winning the world title. At the time he stunned the world as well as himself but he went on to prove he was a worthy champion in the years to come. This air at Foster, on the mid north coast of NSW by Stroh early 90′s.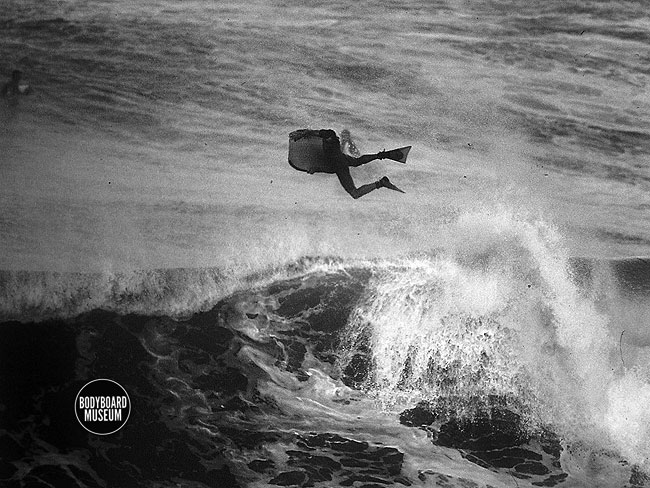 Michael Epplestun is best remembered for introducing the gymnastic moves like the Double Roll, ARS and The Backflip but it was his Frog Airs that first made people stand up and take notice. On his first year in Hawaii Eppo busted a huge backwash air at Off The Wall that ended up in Tracks. For the time it was huge. Eppo went on to master his aerial flights with his unique frog leg landings and was pushing the limits of just how high you could go. Watching Jeff Hubbard today you can clearly see the Eppo influence. Photo below Eppo launch Hawaii mid 90′s Photo Stroh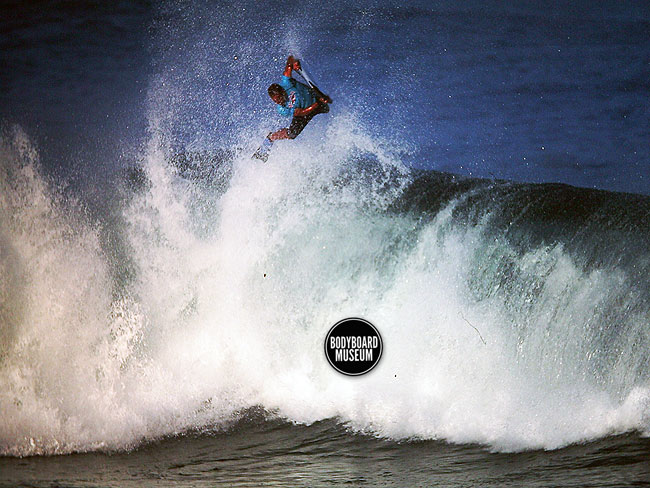 Eppo unleashed the Air Roll Spin move a few months after winning the World Title at Pipe in '93. I t was the biggest advancement in the sport since the el rollo. Riptide used  frame by frames taken from the Underground Tapes video Ballistic to explain the new gymnastic move.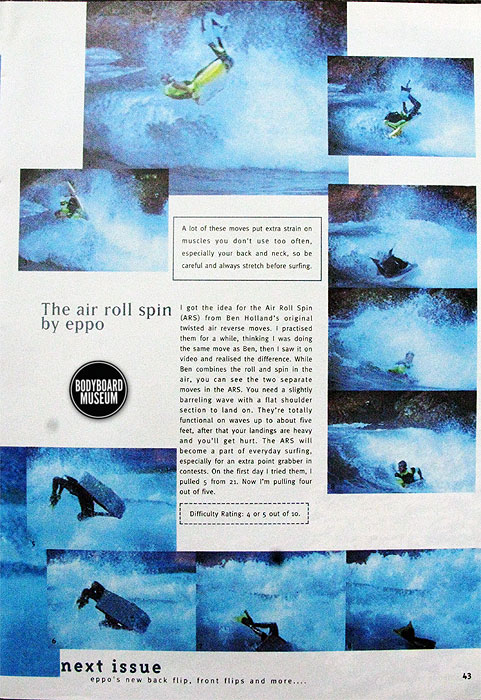 Bullet, Simon Ramsay "Riptide editor" and Eppo getting back to nature on a Ballina farm during a north coast photo shoot for Rippies early 90′s photo Stroh