HISTORY
Posted: January 22, 2014 at 11:30 am
Steve Mackenzie wins the prestige's Aussie Title held at Manly Beach in 1ft woeful conditions in 1990. It was at this event the slick well run ABA contest machine first clashed with the Skid Kids of Cronulla and a war between the opposing factions erupted. ABA wanted the sport run like the "Boy Scouts" with parents running the show while the kids from Cronulla wanted events held in proper bodyboarding waves and not spin to win events.  In the long run the Skid Kids of Cronulla won, they pushed long and hard until the Shark Island Challenge comp was formed in '97 and the sport finnaly saw the light about comps being run in quality wave arenas. Macca also won the first SIC event.Photos: Steve Mackenzie claims victory by Needham insets of The Skid Kids Youngy, Nugget and Wingnut  by Stroh from Riptide.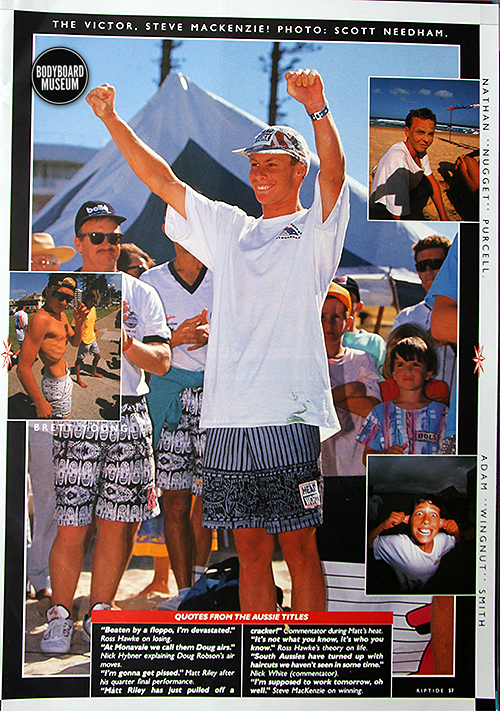 One of Australia's best competitors of the late 80′s and 90′s highlighted by his win at Pipeline against the cream of the sport in maxed out conditions. Steve "Macca"  Mackenzie is a true Aussie legend with a laid back down to earth personalty  which is hard to believe considering he came from Maroubra one of the most militant wave zones in OZ. Photo Stroh '90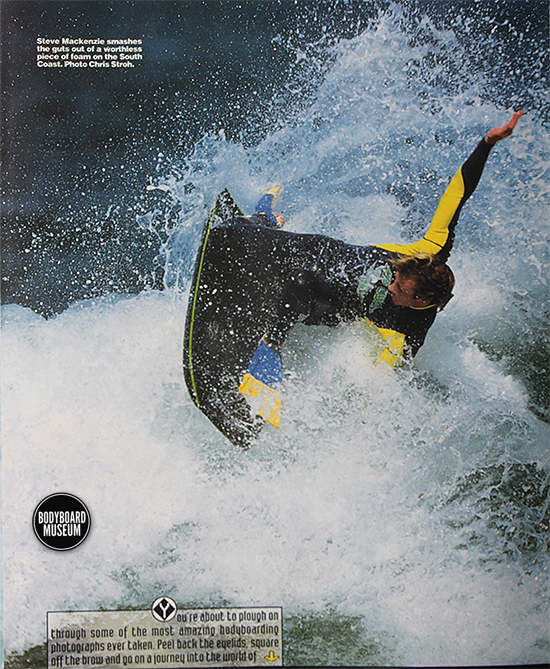 Macca's career started in the shorebreak at Maroubra in the mid 80′s after he won his first comp and Aussie Title in the first event he ever entered. In '97 Macca highlighted his illusterous competitive career with a win at Pipeline in maxed out conditions just pipping Kainoa. It was a fitting win for one of the sports true stars Photo Stroh '90.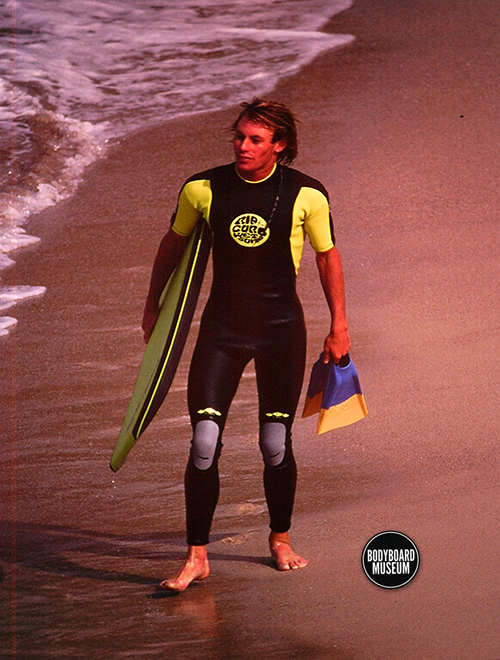 Bullet was a stylish Dropknee rider. In the early part of his career he was all DK winning Aussie Titles and State comps and was the man to beat. He gradually moved back to prone and less DK after a wipe out in WA tweaked his knee. At prone he was just as impressive. Photo Bosko Circa mid 90′s.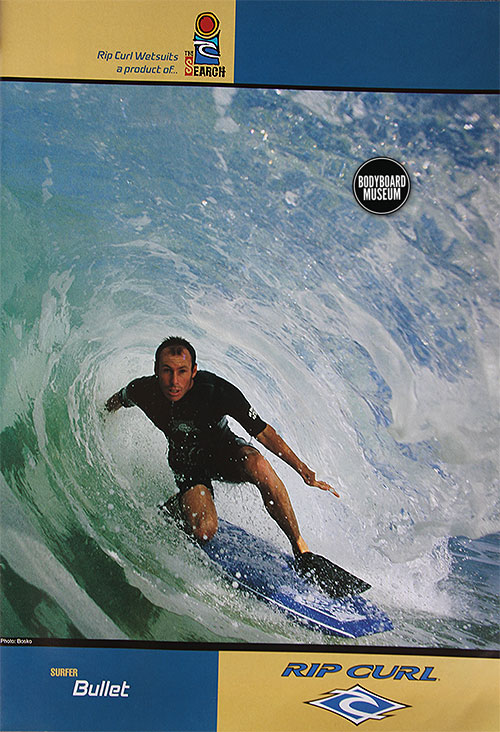 Aussie bodyboard champion Steve Bullet MacKenzie after a long association with Morey surprised many when he brought out a signature board model with Toobs in the late 90′s.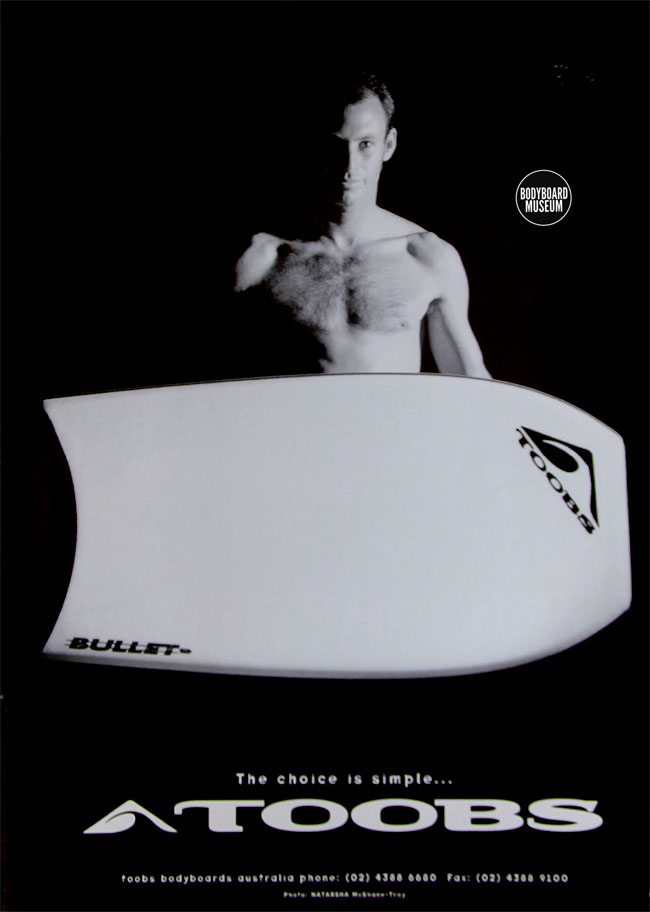 Eppo , Youngy and Macca check out the lineup at St Pierre in Reunion Island. Reunion was one of the fun spots of the tour and the waves always seemed to co operate for the touring pro's during their stay. Photo Stroh '96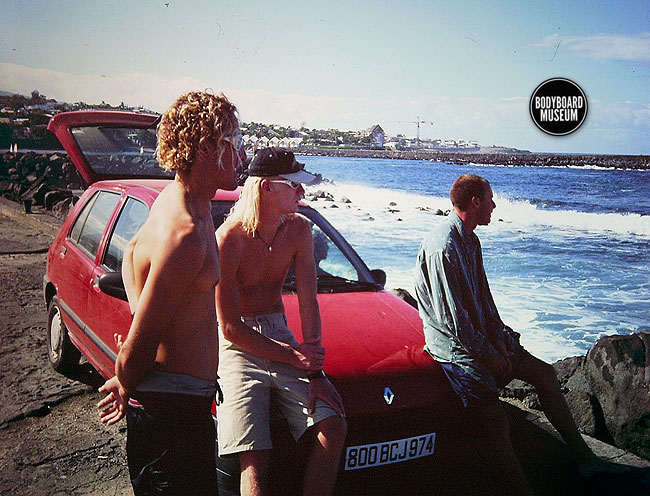 Bullet MacKenzie signed the poster "Hardcore like never before" for the Star Surf Shop Bodyboard Pro Am Series held at Triggs Beach in Perth. From Stroh Collection.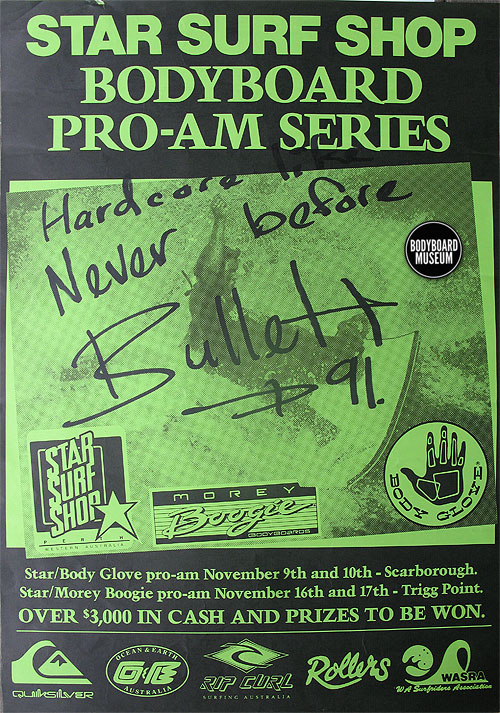 South Coast mission, Steve Bullet MacKenzie, Morey OZ boss George K and Ross "Hellman Hawke prepare for battle on a deserted reef . Stewart and Hauoil are already racing each other into the lineup to see who will be first to get a wave. pic Stroh '90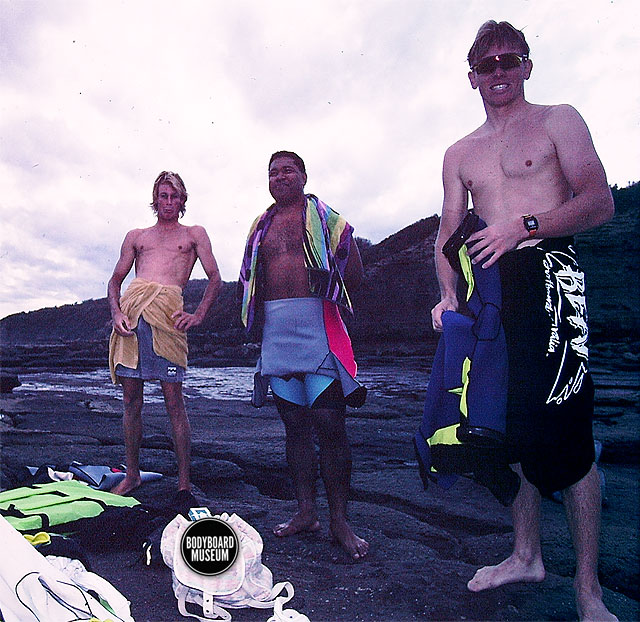 I think Bullet got his nickname due to the shape of his head back in his grom days at Maroubra Beach. Macca hanged out with the Bra Boys before they were Bra Boys. I think their gang was called Ma's Hell Team named after The Abberton Boys Grandma where they hanged out and left their boards. The Bra crew were a committed bunch of surfers even back in those days and it definitely rubbed off on Macca who developed a love of heavy waves. This pic Shark Island comp early 2000′s by Stroh.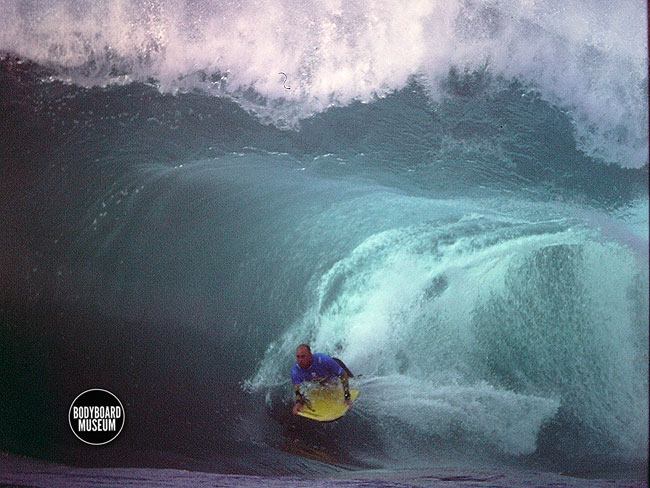 Macca the hell grom from Maroubra photo Stroh.