HISTORY
Posted: January 22, 2011 at 11:10 am
When Guilherme Tamega won the World Title in '94 he instantly put Brazil on the bodyboard map. Up to that time it was still Hawaii and The Mainland that were the main influences in bodyboarding. Once Aussie Eppo in '93 and then Tamega took the title the following year ending a decade of Hawaiian domination the sport blew up world wide. Tamega went from virtual obscurity to national hero back home. Along with the fame came the rewards and Tamega was well supported by Wave Rebel and Redley. The following adv. by Redley came out in early 94 celebrating Tamega's historic win.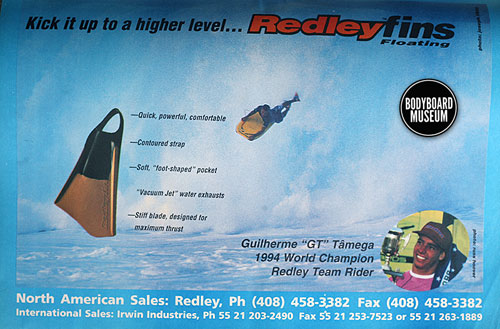 Posted: December 10, 2010 at 5:07 pm
This pic of super grommet Guilherme Tamega was taken in the late 80′s at Manly Beach riding a Mach 7-7. In the coming years Tamega would dominate the competition side of the sport for many years. Even back then he was winning and competing against much older rivals and was destined to put Brazillian Bodyboarding on the world map.  Photo Stroh.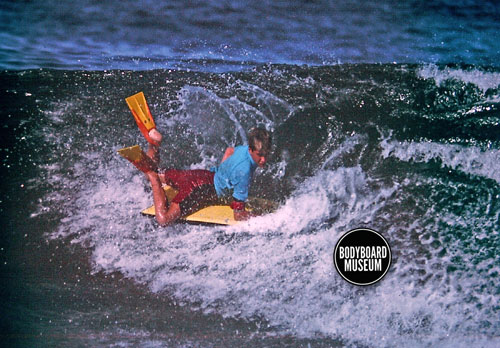 Posted: October 17, 2010 at 6:08 pm
Next to Mike Stewart, Guilherme Tamega from Brazil is the sports most successful competitor. He single handedly put the brakes on Mikes dominance at Pipe both free surfing and competing. In '94 when he won his first of many World Titles, Tamega went ballistic in the life threatening conditions during the finals at Pipeline launching and pulling into some incredibly heavy waves to win the title. He notched up a 10 point ride with an impossible long barrel. Guilherme said after the event he was prepared to die to win. He has won 3 Shark Island Challenge titles as well as multiple World Titles. Throughout the 90′s he held a healthy rivalry with Stewart pushing each other to another level of  ability to win at all costs. Tamega is the ultimate competitor, a fact he has proven time after time… Dominating at Pipe, pic Stroh.