HISTORY
Posted: January 1, 2013 at 9:34 am
Dr. 360″ had a remarkable ride. Nicknamed for the spin he originated on the waves, Joe Wolfson of Manhattan Beach was a pioneer in the world of bodysurfing and bodyboarding, which he took to in the 1970s because he was too small for large surfboards. He became a master."He would sit on a board and spin three, four or five times across the face of a wave," Cody said. He was the first to do this maneuver, a 360.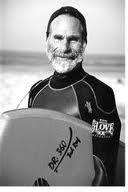 Wolfson went on to win national and international competitions in the sport. He created his own bodyboard, which he sold at local surf shops.Fearless in the water, he took on big, fast surf. And he was one of the first Americans to regularly surf Puerto Escondido, the Mexican pipeline.
His legend grew when, facing terminal cancer, he spent his savings on others, left a note and $5,000 for a party and paddled out to sea to die. Comatose, he was rescued.In Feb 2000 Wolfsen was killed when his car veered off the Marina Freeway, went down an embankment and hit a tree. He was 50.