HISTORY
Posted: February 11, 2012 at 7:42 pm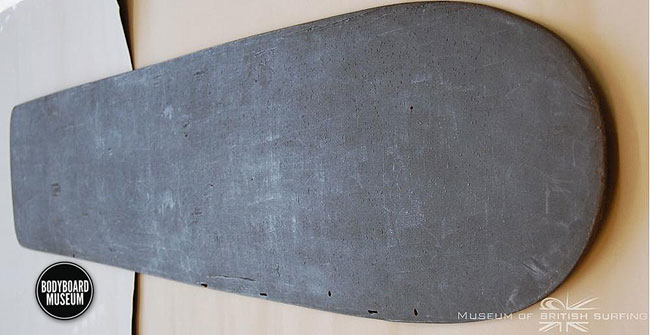 The Ancient Paipo board was donated along with other items of Oceanian material by Alfred Fowler in 1893, it is inscribed "surf swimming board given to the donor (Fowler) by the King of Hawaii" – this was King David Kalakaua who made the gift two years earlier in 1891.
It is a 5′ 11″ long 'Paipo' board, tapering from 13″ behind its rounded nose to 11″ towards it tail, so it is believed it would have been used for prone surfing or by children in the waves closer to shore.
It is described as; "a long black wooden board with a rounded leading edge, tapering slightly along length to a straight-edged end. Nearly consistent depth across board. Regular, rectangular holes cut in along the two long sides, ranging from 0.5 to 1cm from the edge. One hole rounded, as if to fit a screw."The wood is possibly koa stained with kukui nut oil, and was originally part of the Christy Collection. The shape is actually quite complex, with a concave deck and convex bottom – not just a flat plank.