HISTORY
Posted: April 2, 2012 at 8:04 pm
Kainoa McGee in the competitors tent in '89 as he prepares for his heat. Amping up and getting loose as Shawnee Oide massages and Mike Stewart looks on. Photo Stroh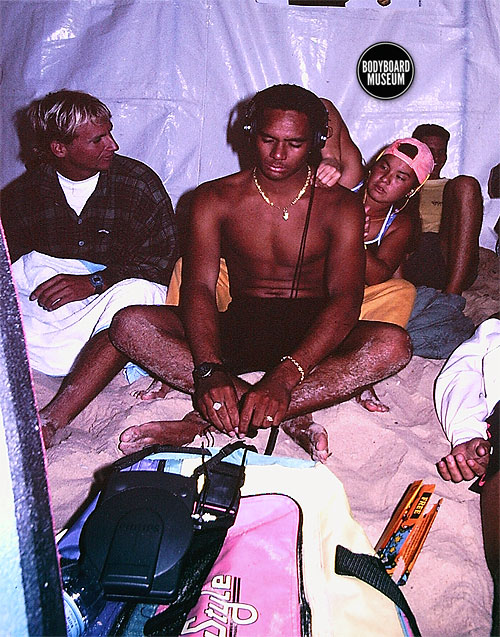 The multi talented Kainoa McGee took dropknee to places previously unknown and attempted. Throughout the late 80′s and early 90′s Kainoa powerful but fluent style proved that riding Dk in heavy waves and not spinning out was a reality. His predecessor Jack The Ripper charged hard but Kainoa took it a step further and made it look easy. This pic was taken in Puerto Escondido.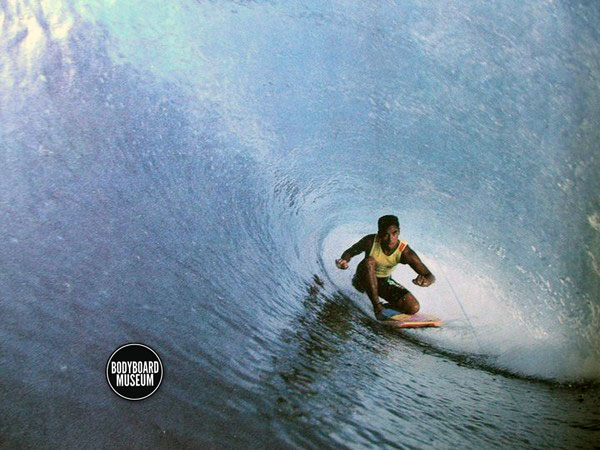 There once was a time when bodyboarding was literally taking over from surfing. As the numbers of bodyboarders  swelled in the lineup kids worldwide were becoming  converts overnight as guys like Mike Stewart, Paul Roach and Kainoa McGee brought the sport some hard earned respect. It would not last long but during this time anyone who saw Kainoa McGee dominating out at Pipe on the biggest days would be a liar if they wern't impressed. Kainoa was in a class of his own both prone and Dropknee. Sure Stewart was calculated and a tube riding perfectionist where Kainoa was just  pure animal. He'd take off on the biggest , meanest wave and make it at all costs. What a legend and there has been no one like him ever since. Below Kainoa in action mid 90s photo Stroh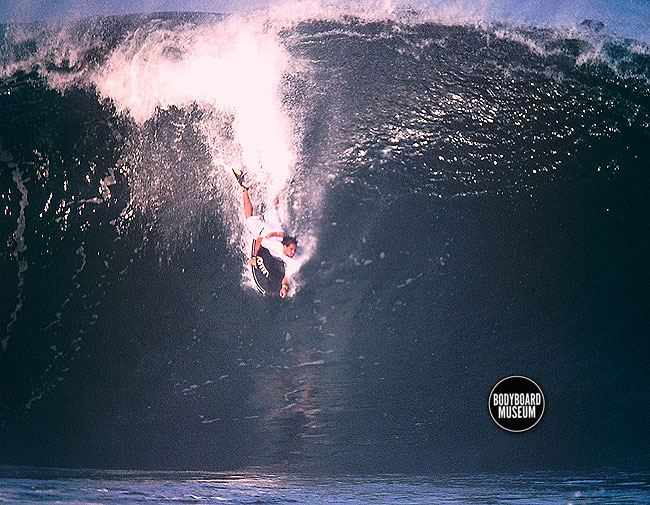 Kainoa rides his bodyboard with brute strength. He makes mush of this Sebastian Inlet left in the late 80s pic by Mike Balzer.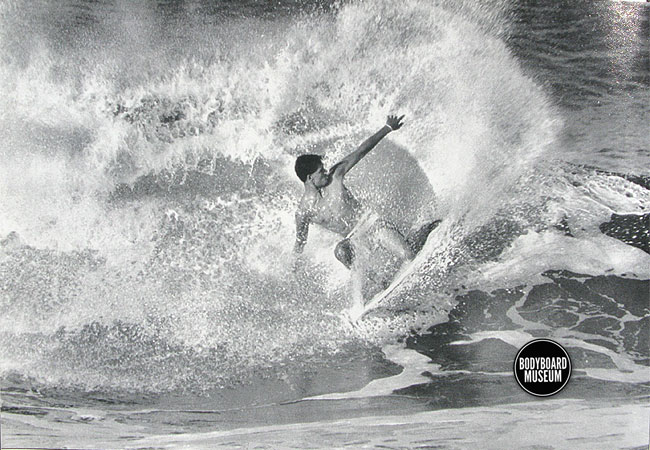 One of the sports true superstars and greatest waterman. From charging huge Pipe dropknee, busting heavy moves to winning contests, Kainoa is respected worldwide  . He's one rider who deserved a World title , came so close on numerous occasions and pushed Mike Stewart right to the edge in some classic duals. Photo below Industry advertisement of Kainoa displacing a heavy slab of water photo by Libby around 2000.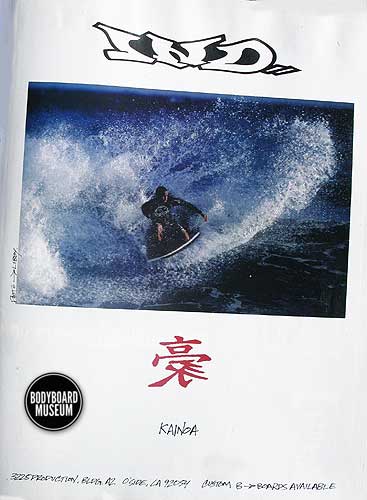 Kainoa McGee scored one of the early issues of Bodyboarding Magazines covers in Nov '88.It would be the first of many for the talented all round Hawaiian waterman.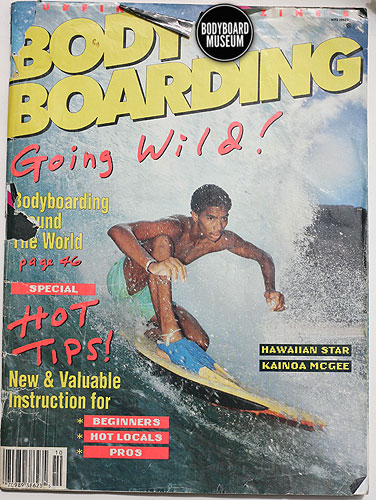 Uncle Kai's Contest win at Maroubra Beach early 90s . Featuring his Kainoa McGee signature model with Wave Rebel.Winners are Grinners. Pic Stroh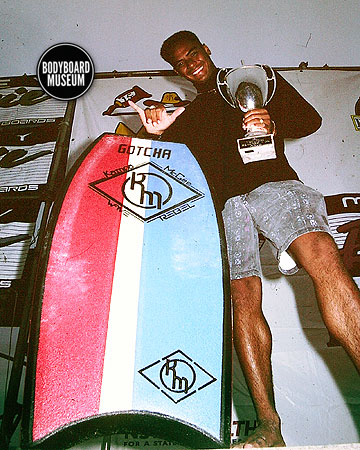 It was around 1990 when the worlds best bodyboarders decended on Maroubra Beach for part of the Aussie Pro Tour. Hawaiian legend Kainoa McGee was part of the strong Hawaiian and USA contingent along with Stewart, Sevo, Roach, Reale and the rest. This was the era when Kainoa was Stewarts main competitive adversary and the pair were constantly competing for top honours. The waves were only small and Kainoa pulled his Wave Rebel bodyboard out and busted all the right DK moves to win in the shorey.   pic Stroh