HISTORY
Posted: September 13, 2015 at 12:43 pm
Young Todd from Cali, charging at Pipeline in early 2000′s now he is working for Surfing Mag as one of their main photographers photo Stroh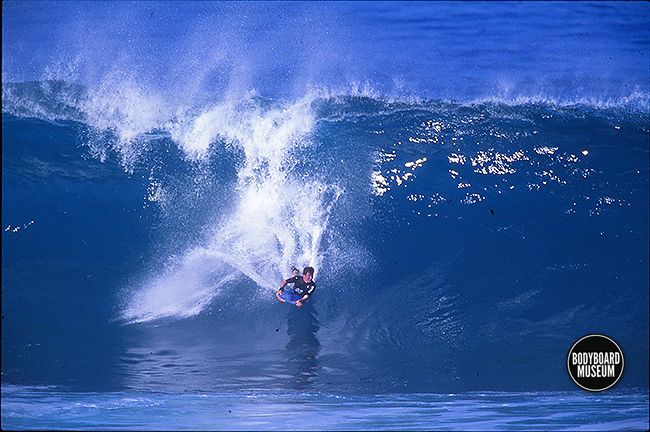 Mike Stewart at Jaws on the cover of Bodyboarding Mag 1996.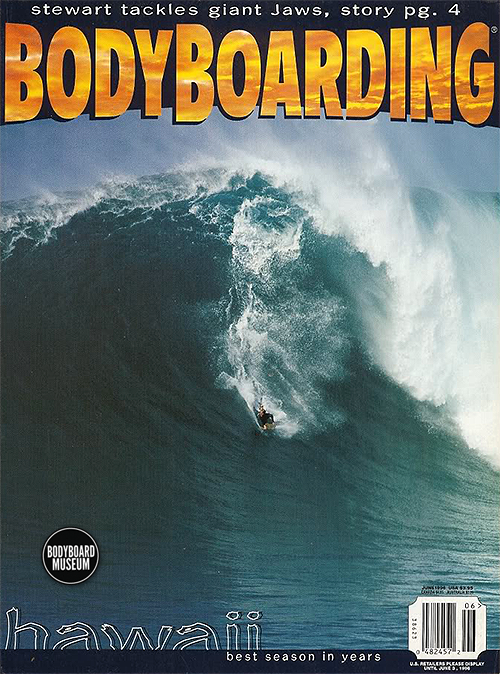 One of the early pioneers of Aussie bodyboarding known for his charging at Shark Island Youngy became a controversial character after he sang in the 90′s video Rip The Pit. After several years living and working in Japan he was tragically killed in a car crash. This shot taken in '89 at Manly by Chris Stroh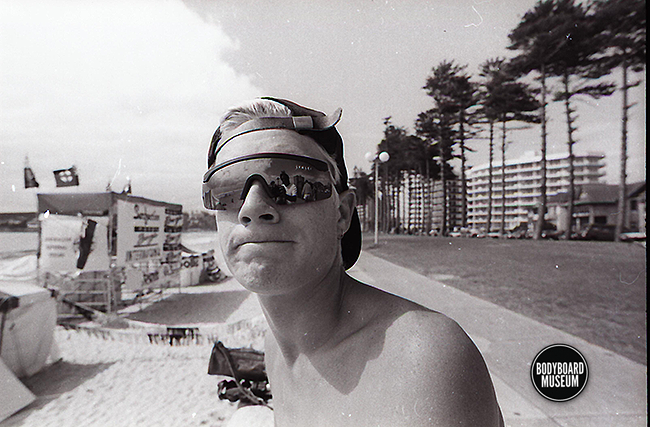 This original belly board was completely hand made in a Manoa workshop in 1963 by a local waterman. Back then you had to make your own and your design was totally up to you. It was shaped out of marine plywood and resin of course and vintage Aloha print fabric available only then from India Imports Ala Moana shopping center.
This particular variation is called a delta wing. It was created with a lip on the nose and rails to afford good grabability.
Measurements are 29 inches wide by 4 feet tall
This had a nickname back in the day, the runaway barge.
It was used often at Makapu'u bay mostly as well as Hanauma.
It got lost many times but it always found its owner.
It has much history…. the owner and creator was actually working with Hawai'i Calls / Webley Edwards when he was 13 years old. His job was to erect speakers around the Moana hotel, finger pinchers he called them. They were heavy especially for a 13 year old and he also held a microphone down at the Waikiki shore to get that trademark waves sound for the beginning of the "Hawai'i Calls" radio shows.
This rarity a one of a kind example of Hawai'i Waterman History and a prized treasure of the Hawaiian he'e nalu tradition, none the less.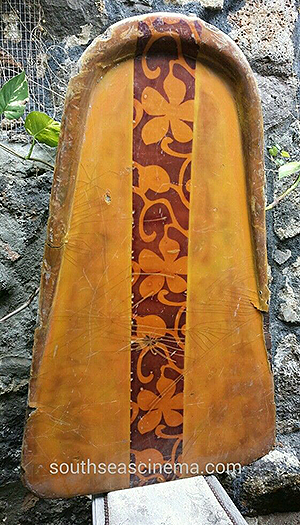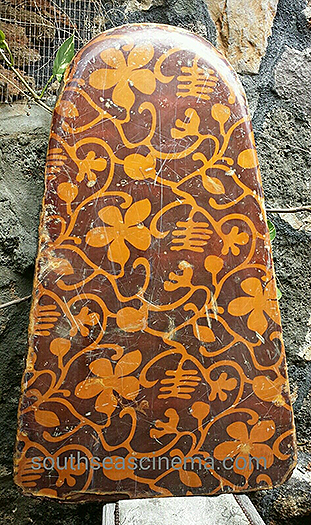 The original artwork for Vol 1 Underground Tapes featuring Mike Stewart on the cover photo Stroh.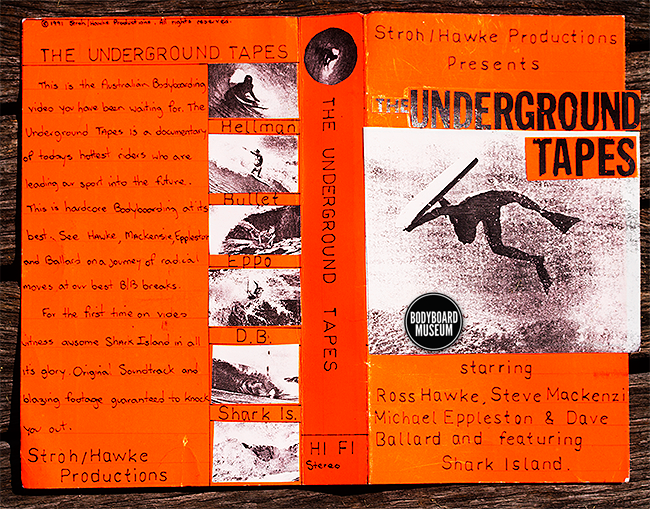 Check out this clip of Tom Morey discussing the early origins of the Boogie Board. Go to
http://vimeo.com/83094893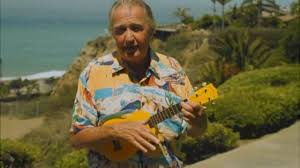 Scotty Carter the maker of Bodyboarding Enough Said and other classic videos in the 90′s photo Hoover.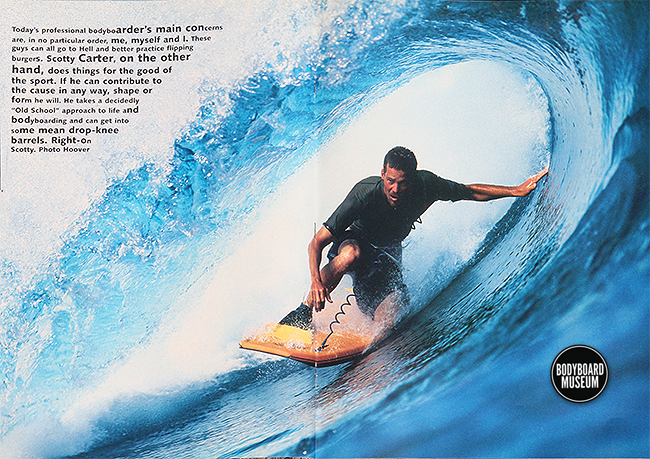 Hawaiian born and bred, Fred Booth was the complete bodyboarder ripping prone as well as backside and forehand Dropknee equally impressive. Here's Fred at The Wedge in Newport Beach Circa 90′s.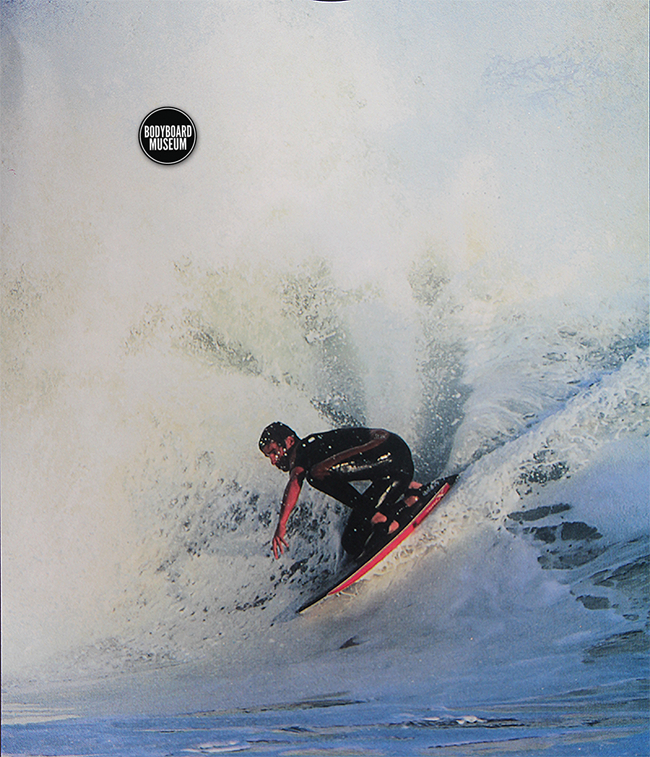 Bodyboarding in the '80s from ENCYCLOPEDIA of SURFING videos on Vimeo.
Before surf mats and boogie boards, Body surfers  ruled the heavy reef lineups by taking off much deeper than the standups. Cronulla Point shown below was one of the first gnarly waves in Aus to see hardcore body bashers put their bodies on the line to get tubed. Photo Jack Eden.